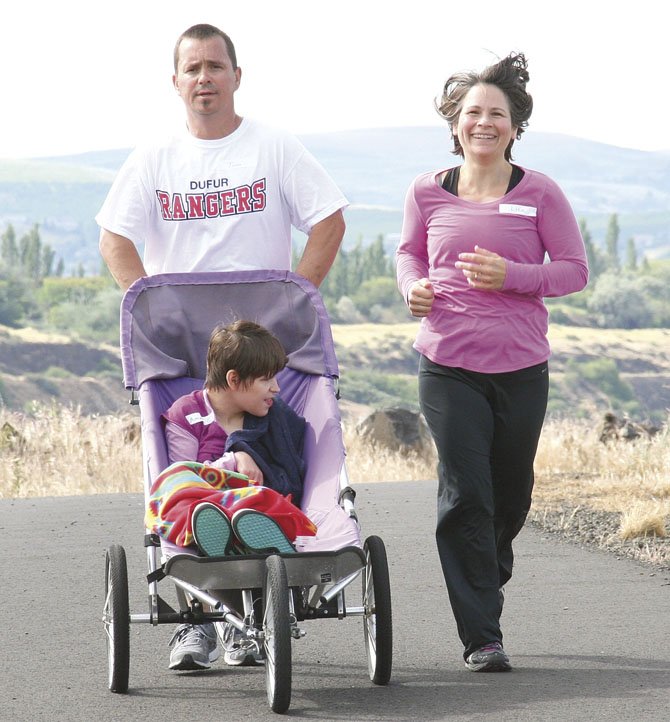 Only 40 seconds stood between first and third place in the 5k race of the Columbia Gorge ESD Rainy Day 3k, 5k and 10k run.
In that event, Kolter Lynch, Sheila Burchell and Kathy Ann Lynch were the three participants in the heat of battle for 5k supremacy.
When the dust settled, Kolter Lynch secured top honors with a final time of 25 minutes and two seconds.
Burchell wound up just 17 seconds behind in a solid 25:19 to grab second place, while Kathy Ann Lynch strutted home in 25:42 to grab a bronze medal.
That 5k race was the closest outcome of the three distances in this race that took place on a sunny day at Kiwanis Park at Klindt's Cove in The Dalles.
Ashlie Dunn flexed her muscles in the 3k race where she throttled the field in a rousing 16:27 for gold. Tyson Byers crossed the tape in 19:23 for second place, and Zoe Dunn motored home more than four minutes off Ashlie's pace with a marker of 21:18.
One top performance by Erick Haynie proved to be an eye-opener in the 10k race, where he dropped a hammer on a large group with a tally of 45:44.
Angie Lynch churned out a final time of 52:55 and Kristi Springer let it go for a good output of 59:06 to score third place in the standings.
This event raised money for Columbia Gorge Education Service District, Early Intervention and Early Childhood Special Education.
The next local run is slated for this Saturday for the sixth annual White Salmon Backyard Half-Trail run at 8:30 a.m. for hikers and 10 a.m. for runners.
The start and finish is in Rheingarden Park just one block northwest of downtown White Salmon.
It is free to enter and there is a suggested $12 donation for all participants.
This is a fundraiser for the Columbia High School cross country team and the CGRC student scholarship fund.
For more information on this event, email aldushan @yahoo.com.