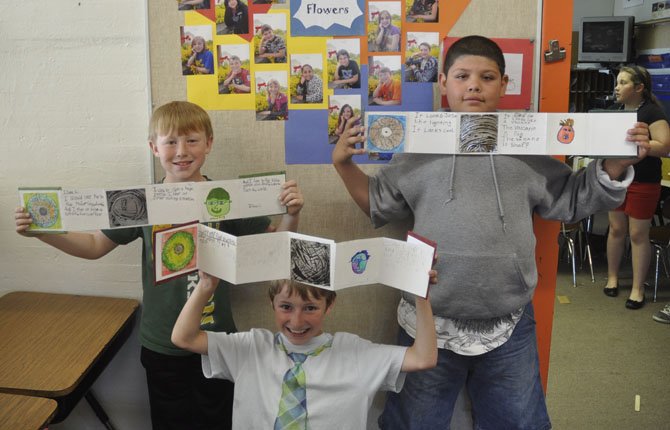 A grant from the Wasco County Cultural Trust gave students at Colonel Wright Elementary a chance to get to know themselves a little bit better.
Teacher Teal Everts used the money to purchase supplies for students to make books about themselves using a "biopoem" they wrote by finishing phrases like "who dreams of ..." and "who fears ..."
The students also did self portraits, used a mirror to draw their eye and etched a their fingerprints in metal.
"It was pretty fun to make, especially the fingers," Francisco Medina said.
Eileen Valdez said she wants to be an artist when she grows up, so that's what she wrote about in her biopoem.
"I'm going to take it home and show my mom," she said.
Hayley Izelle said she liked doing the project because it made her feel like an artist.
Diego Cabrera demonstrated what was in his book, including his wish to be a superhero and learn karate.
Some of the students said the questions about what they were afraid of, what they wished, what they loved and what they believed were hard to answer.
"I liked doing the coloring and stuff but it was hard to think of things to write," Jake Loop said.
The students were working on their books during the last week of school and planned to take them home at the end of the school year.
Everts said she was grateful that the money from the Cultural Trust enabled her to do the project with her students. She got the idea from an artist in residence who visited the school last year.
"I wanted them to have an authentic art experience, working with materials they don't normally use," Everts said.
She said she thought it would be nice for the students to have the opportunity to express themselves and study their own feelings instead of the usual topics.
"This is something for them to treasure, to keep and look back on," Everts said.