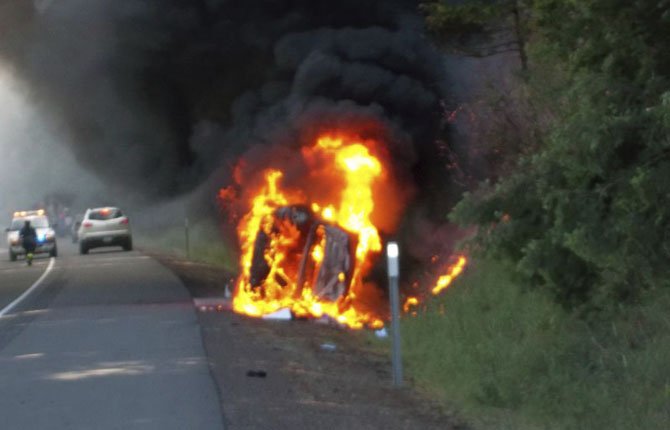 Witnesses to a crash Monday, June 10, near Cascade Locks aided in the rescue of an unconscious woman from a burning car.
Oregon State Police is continuing its investigation into the single-vehicle rollover injury crash that resulted in a vehicle fire that spread into the grass and trees along Interstate 84.
The crash occurred at about 10:30 a.m. and involved a 2010 Toyota Camry driven by Ketsy Roeder, 60, of Kennewick, Wash., according to the state police report. The car was eastbound on Interstate 84 near milepost 44 when it traveled onto the right shoulder where it appeared the driver lost control. The vehicle struck a rock mound, went airborne and up an embankment into trees before rolling over several times and coming to rest on its top on the highway shoulder.
The overturned vehicle caught fire as several people stopped at the scene and approached it.
A man kicked out a rear-side window as Roeder remained inside unconscious and secured by her safety restraint.
A group of people rolled the vehicle onto its side where the same man used a baseball bat and broke out the car's sunroof. Reaching inside, he cut off the safety belt as Roeder was regaining consciousness. Several people teamed together, pulling her out of the burning car and then moved her about 20 feet away while waiting for firefighters to arrive.
After Cascade Locks Fire & EMS arrived, firefighters extinguished the fire that had also spread up the embankment into nearby trees. Medical personnel treated Roeder at the scene and then she was taken by ground ambulance to Legacy Emanuel Medical Center in Portland where she is in fair condition.
Trooper Scott Kinch is the lead investigator into the crash.
ODOT assisted at the scene including coordination of traffic control while the eastbound lanes were closed for fire suppression and then open to one lane. All lanes were open about 90 minutes after the crash.