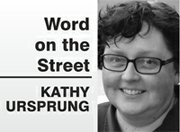 The Dalles — A tip of the hat to Bob and Joana Stanek, who have been serving breakfast to graduating TD and TDW seniors for the past 15 years, since taking ownership of Spooky's Pizza.
Informed sources say the Staneks work all day Saturday and Saturday night on very little sleep preparing the breakfast that all graduating seniors have the opportunity to attend after a night of post-graduation celebration.
That's not the only thing they do in the community, either. Every year they support local athletic teams, host the Tip a Cop event and quietly feed many folks who otherwise might have a hard time getting a hot meal.
"They enjoy giving back to young and old in our small, wonderful The Dalles," said our anonymous source.
Waldo's in The Dalles? Klindt's Booksellers and Stationers is hosting a month-long scavenger hunt in 25 participating businesses to find Waldo. The bespectacled fellow in the red-and-white-striped shirt and cap will be displayed in the participating businesses for shoppers to find. Those who succeed will get a stamp in their passport. Throughout the month, prizes will be awarded. The event culminates in a big Waldo shindig at Klindt's. Last summer, 250 book stores hosted Waldo scavenger hunts.
The Dalles in the press: Oregon Wine Press features The Dalles in its June 1 cover story by Mark Stock, who writes, "I wanted something original, something new, something with unlimited potential. With a wine glass as my witness, I found it in The Dalles."