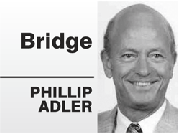 Otto von Bismarck said, "People never lie so much as after a hunt, during a war, or before an election." Bridge players do not so much lie after a deal as not realize that they failed to take as many tricks as possible.
This layout was in yesterday's column. Then South, hunting for 10 tricks in four spades, ruffed the second heart and immediately played on diamonds to take six spades, two diamonds and two clubs. (If diamonds had not been 3-3, declarer would have tried the club finesse.)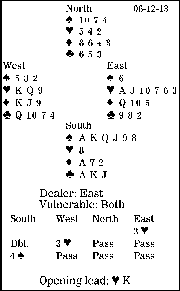 Now let's turn to the defenders' hunt for four tricks. How can they succeed after West leads the heart king?
South's sequence, a takeout double over East's weak two followed by a jump to four spades, showed a very strong hand with at least a six-card suit. North hoped that no one would double!
East should realize from the bidding and the dummy that South has only one heart. Maybe West has a trump winner, but if not, the defenders must take three minor-suit tricks. These might come automatically, but perhaps South has a strong club holding that needs to be led through. (There cannot be a need for an immediate diamond shift.)
East should overtake West's heart king with his ace and switch to the club nine (the high card denying an honor in the suit).
South can win, cash the spade and diamond aces, and play a second diamond, but East overtakes West's jack with his queen and leads another club. Here, this leaves declarer with no chance, having to lose four tricks.