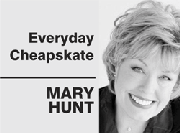 The saying, "When the student is ready, the teacher will come," popped into my mind this week when I received today's first tip in my email box. I was certainly ready to learn, having just experienced the heartbreak of tossing a hopelessly spoiled head of romaine into the garbage. I hate when that happens, so you can be sure there's now a 2-gallon-sized Mason jar in my refrigerator.
JAR THE LETTUCE. I was having a real problem keeping lettuce from either freezing or spoiling in my fridge, until a friend told me to store it in a glass canning-type jar with the lid applied. That seems to work so much better than plastic bags to prolong the life of any kind of lettuce. I'm not sure why this works, but I'm so glad it does. — Louise, Oklahoma
PUPPY WEENIES. I hate the high price of doggie treats, which can run $4 to $8 a pound where I live, sometimes even more. And honestly, most of them look like some kind of mystery (artificial?) food. Here's what I do to save a lot of money and also give my dog real food. I buy store-brand hot dogs for about $1 a pound, slice them into 1/2-inch bites. and store them in the refrigerator. It's easy to grab, and my dog thinks they're quite a treat! — Rachel, Michigan
HEALTHY FRYING. While your frying pan is heating up, add one tablespoon of white vinegar just before adding your cooking oil — one or two tablespoons of any kind. This will help cut down on the amount of fat that your frying food absorbs, which means it will taste less greasy. You will get a strong vinegar smell as it mixes with the oil, but don't worry. It will dissipate, and your food will not taste like vinegar. — Julianne, Idaho
MYSELF-CLEANING OVEN. Here's the best and cheapest way ever to clean an oven: Preheat to 200F, then turn it off. Fill a heat-safe glass dish with 1 to 2 cups of ammonia, and set it on the middle rack. Fill another dish with 2 cups boiling water, and set it on bottom rack. Close the door, and leave overnight. The next morning, remove dishes and wipe down the inside with a hot, wet sponge that you have dipped into baking soda. Rinse, and enjoy your sparkling clean oven. — Molly, Kansas
DIY DOUBLE-BOILER. You don't need to own a double-boiler that you will use only occasionally. Make your own using a small- to medium-sized pot and an oven-proof (like Pyrex) glass bowl that will fit inside the pot without resting at the bottom. Fill the pot about 1/4 full with water, and bring to a boil. Reduce the heat to simmer, and set the bowl into the pot over the boiling water. The bottom of the bowl should sit at least 2 inches above the water, optimally. — Emily, Wisconsin
Would you like to send a tip to Mary?
You can email her at mary@everyday
cheapskate.com, or write to Everyday Cheapskate, P.O. Box 2099, Cypress, CA 90630. Include your first and last name and state.
Mary Hunt is founder of www.DebtProof
Living.com.
To find out more about Mary and read her past columns, please visit the Creators Syndicate Web page at www.
creators.com.