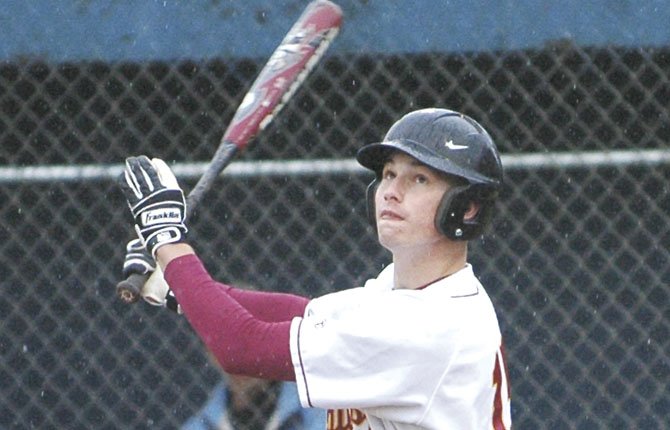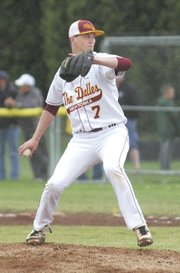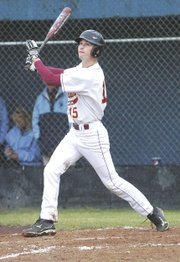 On Tap
TUES., JUNE 11
Babe Ruth Baseball at Kramer
Pepsi vs. Sherman, 6 p.m.
WED., JUNE 12
Babe Ruth Baseball at Kramer
ECE vs. Spooky's, 6 p.m.
White Salmon vs. Y-102 at White Salmon, Wash. 6 p.m.
THURS., JUNE 13
Babe Ruth Baseball at Kramer
Spooky's vs. Sherman, 6 p.m.
American Legion Baseball
AAA CG Hustlers vs. Showtime at Battleground High (9 Inn.), 4 p.m.
Redmond at A Hustlers (2), 4 p.m.
Prep Basketball
Husky Tourn, 4 p.m. to 9:30 p.m.
Connor Mathisen and Dakota Walker will have one final chance to wear The Dalles Wahtonka's crimson and gold.
The duo heads to Goss Stadium in Corvallis for the Reser's Oregon State-Metro All-Star Series for two days of play starting on Saturday and ending Sunday.
This series pits teams from the North versus South, as the state's top graduated senior baseball players from Class 6A-5A.
Mathisen hit .329 on the season with a home run, 24 RBIs and 19 runs scored. He also walked 24 times and boasted an on-base percentage of .477.
Out on the field, Mathisen, a second-team all-state outfielder, committed three errors for a .954 fielding percentage.
"He is another really smart kid and a talented player," said TDW head coach J.R. Runyon. "He had been kind of a coach out on the field so to speak. He controlled centerfield and he made all of the plays. He helped us out offensively as well in the three spot. I am just proud that he was able to get on the second team, he deserved it."
For Walker, earning this honor after overcoming leukemia is quite a step.
The right-hander tossed a team-high 57 2/3 innings with 42 strikeouts and 34 walks. He posted a 7-3 record, a 2.67 earned run average, adding two shutouts and four complete games for the 2013 Columbia River Conference champions.
Walker gave up 26 runs, 22 earned and 44 hits and allowed opposing teams a batting average of .204.
"It is a really special thing to have a kid like this who not only came back from what he did, but he was able to be out on the baseball field and contribute to our success throughout the year," Runyon added. "It is a testament to his desire and passion for the game. He did an outstanding job for us. I was really proud to have him back."
Both of these athletes will compete for the Oregon All-Star Series Most Valuable Player award named after baseball pioneer from The Dalles, Bob Brockman.
Brockman, who was the head baseball coach at The Dalles from 1986 through 1991, ran the State-Metro Series at Quinton Street Ballpark in The Dalles for 14 years (1993-2007).

Before becoming director, he was assistant director for six years (1987-1992) and Quinton Street Ballpark's head groundskeeper for the State-Metro Series from 1969 through 1987.

Brockman will throw out the first pitch on June 15 at Goss Stadium.
"We want to honor Bob for all he did for the event and the student-athlete ballplayers," said media relations director Brooks Hatch. "We could not think of a more meaningful way to pay respects to Bob, because he's the true MVP of the Oregon All-Star Series. We hope to continue the tradition that Bob launched back in The Dalles."
It is a proud moment for Runyon as he assessed the importance of having two of his senior players on the all-star roster.
Along with those two, Justin Sugg, Kaci Kiser, Kevin Henderson and Hunter Malcolm set the bar high, so Runyon is hopeful the young athletes can fill those shoes..
"You have these players who are successful and making state teams and the seniors are leaders passing down what they have learned through the years," Runyon said. "They showed the younger guys how to compete and do things right. You could not have asked for a better group of guys to carry that on. These guys are made up of great character."
The Series kicks off with a doubleheader at noon Saturday, and concludes with a single game at 11 a.m. on June 16.
Reserved seats are $10 and General Admission seats are $5.
For more information, call 541-752-5656, or www. oregonallstarseries.com.