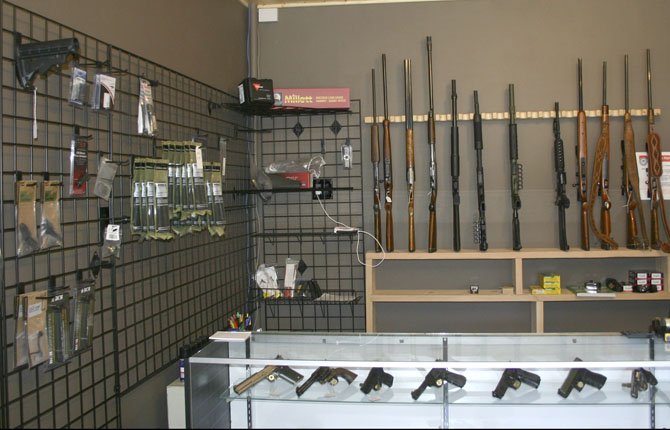 Redline Tactical, LLC, opened recently at 213 E. Third St. selling guns and related equipment, ammunition and services.
Owners Robert and Todd asked not to give their last names or show their faces for security reasons, but Robert says they are well-known within the gun community.
Robert has been gunsmithing for about 17 years. He has had his federal firearms license for 10 years. He said they decided to open a store because repair clients asked for another gun sales option. Their philosophy is "quality products at a fair price."
Redline Tactical specializes in Glocks, AR15s and 1911s, which are guns like the old Colt 45.
"We're a certified Glock armorer, so we take seriously what we do," Robert said.
They sell used and new guns and will take consignments.
"Consignments make it easier for people who want to sell their old deer rifle," Robert said. His hope is that people who sell their old guns may decide to buy a new one.
After experiencing shortages of ammunition and AR15s, Robert says the market is starting to turn around. They carry products by Magpole, Troy Industries, Yakee Hill, Sampson, Adams Arms and Veltor, dealing direct with the factories.
"It fluctuates, especially when the paranoia starts," he said. "A lot of stuff is starting to come back around."
Prices of ammunition have likewise fluctuated.
"Three weeks ago it was $800 for 1,000 rounds of ammo, now if it's over $500 it's not moving," Robert said. "We keep up on what's going on in the market. We expect over the next few months to see stuff that will actually be accessible and at a fair market price again."
Robert is continuing to offer gunsmithing services.
"We refinish firearms and fix broken stuff," he said. "We're more into the tactical end of the world than older hunting rifles, but we can refinish those, too." They use the Cerakote finish.
Redline Tactical also offers basic firearms courses, such as those required for the concealed carry permits.
"You can come in and buy a firearm and get trained," he said. "We have a range."
Redline Tactical is open Tuesday through Friday from 10 a.m. to 6 p.m. and Saturday from 10 a.m. to 4 p.m. For more information, call 541-769-0778 or find them on Facebook under the business name.