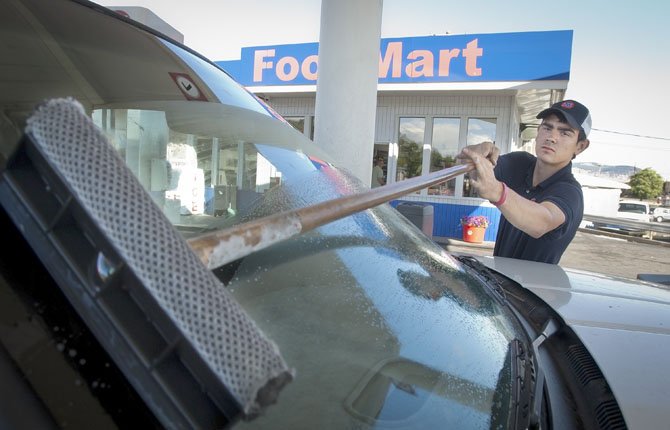 The Dalles — The Dalles City Council is inviting residents to comment on a proposal to pay for repair of dilapidated streets with a 3 cent per gallon increase in the city's gas tax.
On Monday, the elected body decided to hold a public hearing on the issue at the July 24 meeting. The council convenes at 5:30 p.m. in the municipal chambers at City Hall, 313 Court Street.
The council wants to know if constituents are for or against asking voters in November to raise the current tax of 3 cents per gallon to 6 cents in order to repay $6.1 million in bonds for roadwork.
"What we like about this particular proposal is that we get to take it before the voters and the voters decide if that is the way we should fund the maintenance of streets," said Nolan Young, city manager.
If people object to the amount of the tax, or having it imposed for a 20-year period, Young told the council they had most of the summer to work out a compromise plan. If a measure sent to the ballot was turned down by voters, he said the city could revise its proposal or revisit another revenue source, such as imposition of a 7 percent cell phone tax. Another option could be increasing the franchise fee charged to the two public utility districts within the city's jurisdiction.
"If people vote it (tax increase) down and they keep voting it down, they don't have anything to complain about when they have bad roads," said Councilor Carolyn Wood.
Councilor Dan Spatz said it was important for officials to let citizens know that the current city tax has not been raised in 27 years. He said 3 cents might have seemed like a "significant" amount of money in the 1980s but it is not that much in today's economy.
"The only thing to me that is fair, equitable and affects everyone using the roads is the 3 cent increase," he said.
Motorists are currently paying the federal government 18.4 cents per gallon for fuel and the state 30 cents, according to Hattenhauer Distributing in The Dalles.
Young and Dave Anderson, public works director, are seeking additional revenue to catch up on a backlog of improvements for main arterials and 60 of the 315 blocks of streets within neighborhoods that also needed repairs. They estimate that it will take seven years after the tax is raised to completely check off the project list of streets in poor or very poor condition.
The city is responsible for about 88 miles of streets within town but almost 15 miles are gravel or unimproved public roads. That leaves slightly more than 73 miles of streets to either be covered with asphalt or chip sealed.
The plan, said Young, is to get caught up on street work that has been delayed for years due to budget constraints. He said a preventative maintenance program could then be enacted to pare down the high cost of rebuilding a road that has fallen into of disrepair.
Councilor Bill Dick said he believed there has been a call by citizens for a long time to have better streets.
He was opposed to raising the franchise fee of utility districts if the gas tax measure failed. Councilor Tim McGlothlin agreed that avenue of funding should not be pursued.
Mayor Steve Lawrence asked Young how staff had come up with the recommendation for the gas tax increase instead of pursuing other funding options.
Young said The Dalles continued to be a "hub" for trade as it had for 10,000 years and that brought 70,000-80,000 visitors to town each year. He said it seemed only fair that any fee imposed for infrastructure improvement include these motorists.
"Does this (tax proposal) take into consideration trying to maintain any new streets that might not yet be annexed?" asked Lawrence.
Anderson replied that revenue generated from the gas tax would be used to accomplish work on a project list that had been posted on the city's website. He said the funds would not be used for improvements on streets that had been identified as eligible for formation of a Local Improvement District, which would use assessments on property to cover costs.
The city currently receives $450,000 per year from its gas tax and will receive another $826,000 from its share of the state gas tax this coming fiscal year.
Councilor Linda Miller asked Young and Anderson what city officials had been doing with this revenue if street improvements had been delayed the past several years.
"Where are those funds going?" she asked.
Young said that revenue is mandated to be used for transportation-related projects and has covered the cost of maintenance and payroll for workers assigned to road work. In addition, he said the funds were used to install and maintain street lights, as well as snow plowing and striping activities.
"It's for operational as well as maintenance needs," he said.
Anderson said before the state's increase of 6 cents per gallon in the gas tax – enacted on Jan. 1, 2011 – the city had difficulty coming up with the capital to cover operations and maintenance needs.
If voters approve an increase in the city gas tax, it cannot be levied until January 2014, the date set by the Legislature for future local increases. That mandate was put into effect after the House and Senate approved the statewide increase from 24 to 30 cents.
Lawrence said he believed the June 24 hearing needed to start a broader discussion of the overall transportation network. The city currently will not accept roads for maintenance that have been annexed in urban fringe areas but not brought up to existing standards, which require sidewalks, curbs and storm drains.
The mayor said the urban growth area agreement between the city and county states that annexations can only occur when development is completed. Therefore, he contends the city is saying that roads in these areas are acceptable when it incorporates surrounding properties.
In a follow-up interview Tuesday, he said some of the roadways that are annexed were built to city standards of the time and it was "moving the target" to then require additional work. "I think there are a lot of issues involving our city streets that need to be addressed," said Lawrence.