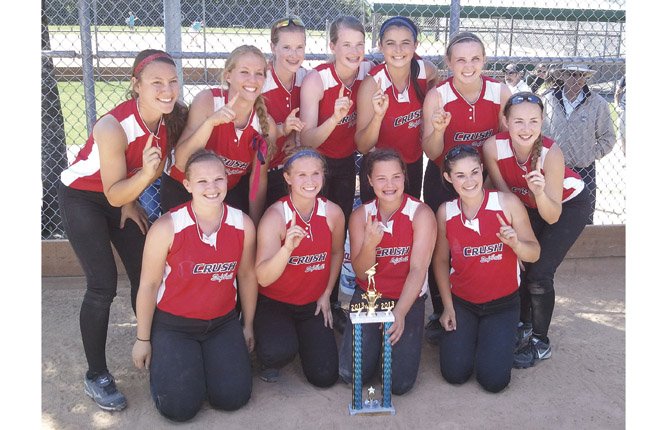 With a mish-mash group of softball players from The Dalles, Dufur and Hood River, the 18U Cherry City Crush softball team rebounded from a 0-3 record in pool play and reeled off four consecutive wins to secure first place at an open classification tournament last weekend in Aloha.
"The desire to learn, compete and the love of the game resulted in the success they achieved on Sunday," said Cherry City Crush head coach Bob Delaney. "These athletes really came together as a team this weekend."
Delaney said there were some heavy hitters in the brackets with several of the top Northwest 'Gold' and 'A' level teams participating.
With that in mind, the Crush hit a speed bump in pool play action with three consecutive setbacks in the pool play rounds on Saturday.
Steaming with that performance, the Crush had a night to get their minds right and answered the bell Sunday with two straight victories in bracket play to capture first place.
The newly formed team beat the Clark County Breeze 2-1 Sunday morning and then defeated the Cardinals 4-1 in the championship game.
Nursing a slim 2-1 lead, every run counted, so Crush infielder Katie Helyer rifled a clutch two-run home run in the top of the sixth inning to provide some insurance runs.
This is the first 18U Cherry City Crush team since 2002 and it consists of nine players from The Dalles Wahtonka High School, one from Dufur High and two from Hood River High.
More than anything, Delaney sought out a tough schedule for his 18U softball team just to see how they stack up against some powerful programs.
"Playing at the 'A' level will help these players tremendously for the 2014 high school softball season," Delaney added.
Along with Helyer, the Crush roster is made up of 2013 Columbia River Conference all-league players Morgan Triperinas and Melanie Taphouse, along with Hood River twins, Jess and JoJo Karr.
TDW players Morgan Goslin, Grace Helyer, Maddy Bradford, Lori Cimmiyotti, Timarra Roth and Ruthie Ford are some big names on the roster, as is Dufur native Hannah Harris, who was a first-teamer this year while on the TDW varsity squad.
On the coaching staff are Delaney, Todd Bradford and Patti Delaney.
The Crush hit the diamond again on June 22 in Newberg and then they travel to North Marion for another big tournament on June 29.
After those two tournaments, the Oregon ASA Championship Tournament takes place in Beaverton from July 12-14.
For more information on all other Crush teams from the 10U through 18U levels, all interested fans can go to www.cherrycitycrush.com.