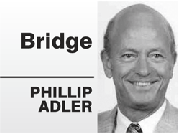 Robertson Davies, a popular Canadian author, said, "The eye sees only what the mind is prepared to comprehend."
I suppose that applies to bridge players, except that they must also try to "see" the opposing hands, imagining where the key missing cards lie. And if you can, always assume the worst possible breaks. Agreed, they will not happen often, but when they do, if you can overcome them, you and your partner will be very happy.
In this deal, how should South play in six spades? West leads a heart. East wins with his ace and shifts to a diamond.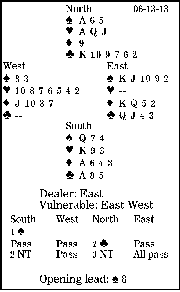 North's four-spade rebid showed a maximum opening bid with no singleton or void (otherwise, he would have made a splinter bid). South used Blackwood, East doubling North's five-heart reply to ask for a heart lead. South, not worried about hearts, jumped to six spades.
The only potential problem is in the trump suit. Declarer's inner eye should see that if the four missing cards are divided 2-2 or 3-1, there will be no worries. So South should assume a 4-0 split. How can he overcome that?
If East has all four trumps, declarer is doomed; he must lose a trump trick. But if West has all four, South is safe as long as he starts with his king, keeping dummy's ace and queen hovering over West's 10 and jack. When the 4-0 division is disclosed, declarer twice leads spades through West to nullify his trump holding.
The eyes have it!