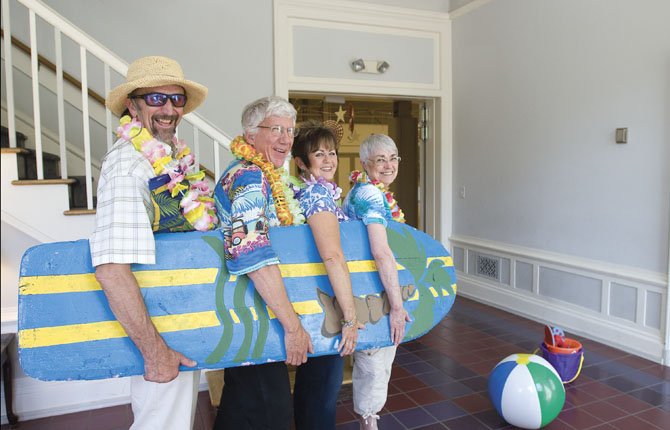 When The Dalles Civic Auditorium was built back in 1921, it was meant as a community center for the benefit of all The Dalles residents, and when a group of volunteers banded together more than 20 years ago to preserve the building, they had the same thing in mind — and its supporters hope citizens recognize that and sign on as supportive members of the organization.
Today the building serves as a central location for events and activities of all kinds: concerts, plays, civic group meetings, weddings, funerals, and more. Its preservation committee is actively working to garner community support and raise money to renovate the theater, the last remaining unremodeled portion of the building.
The Civic Auditorium Preservation Committee is launching its membership drive this Friday, June 14, at the Fork, Pork and Cork Luau benefit. Dinner, served from 6 to 7:30 p.m., will include poached salmon prepared by local chef Ross Bailey, smoked pork from River's Edge Custom Cutting, side dishes from Class Act Catering, and desserts from Fred Meyer. Music will be provided by Randy Haines. Tickets are $15 available at Klindt's or the door.
People who purchase tickets to the luau can also purchase half-price tickets that night for "Sing Out, Sweet Land," a musical biography of American popular song, the Theatre Company of The Dalles' current production, which closes that night in the unrenovated theater, where 410 theater seats have been installed with the help of community partners.
Neva Reid will be on hand at the luau to sign people up as Friends of the Civic. Membership money will go toward work in the theater.
"In order for us to be successful with grants, we have to be able to show grantors the community is standing behind the organization," said Sherry Munro, fellow Civic board member. "They want to see that the community is involved and one way is to become a Friend of the Civic, helping us achieve our goals."
Five different membership levels have been established: Individual ($25), Family ($50), Business ($100), Key ($250), and Patron ($500).
Reid plans to visit all the area businesses, providing information about business membership, and also individual membership for employees..
"A lot of memberships have lapsed over the last few years," Reid noted. She hopes to bring those former members back into the fold, and recruit new members besides.
While the membership drive proceeds will go toward the theater renovation, the Civic27.com program is geared toward filling in the Civic's annual maintenance budget. Since the building was dedicated to the veterans of World War I, the support program was aimed at raising $27 from each of the 3,000 veterans in Wasco County to cover the $81,000 annual maintenance budget. But anyone can participate.
The Civic also welcomes volunteers, said Munro, who is volunteer coordinator.
"We always need volunteers for events, cleaning, minor repairs, light facility work and fundraising," she said. Volunteerism also demonstrates community support to grantors.