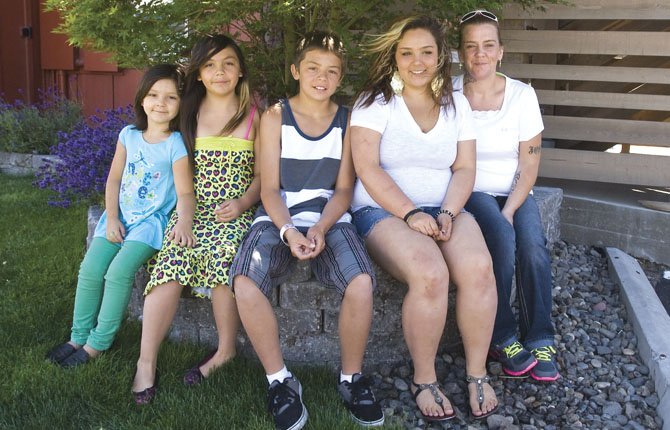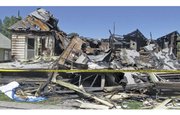 How you can help
Clothing for the children of Jose and Kate Alvarez is now being collected in the main office of Colonel Wright Elementary School, 610 W. 14th St., and The Dalles Wahtonka High School, 220 E. 10th St.
Greg Bigelow, principal at Colonel Wright, is organizing the clothing drive. Needed by the children are:
• Evea, 5, is starting kindergarten this fall and wears a girl's size six 6x top and bottom, and a size 13 toddler shoe. She lost dolls, a journal opened by a spoken password in the fire, bicycle and wading pool.
• Emily, 8, is entering fourth grade next year and wears size 14-16 in both tops and bottoms. She lost her Nook tablet, a Play Station with dance games, bicycle, drawing equipment, beading kit and books.
• Zach, 11, will enter the sixth grade this fall and wears size 14-15 shirts and slacks, and size 8 in men's shoes. He lost his skateboard, iPod and kick scooter.
• Blanca, 15, is going to be a sophomore and needs extra-large tops, a size 15 pants and a size 10 in women's shoes. She lost her iPod, cell phone, makeup, jewelry and shoe collection.
Kate Alvarez said she, like most Americans, sometimes put too much priority on material possessions — until she watched her house go up in flames.
"We lost everything but that incident really brought home how much we need to be grateful and what's really important," she said.
The Alvarez family escaped their home at 117 W. Eighth St. in The Dalles shortly before 2 a.m. June 8 — and even managed to save the dog — but had no time to gather up any of their belongings.
"We didn't even have time to grab a purse or a wallet. We lost all of our identification and important papers, including the kids' birth certificates," said Kate.
Her husband, Jose, was the first to wake up and notice that something was wrong.
"I don't know exactly what woke us up, but there was a bright light shining on the blinds in the bedroom. My husband thought at first that it was already morning and he was going to be late for work," she said. "He got up and looked out the window and, when he saw the fire, told me we had to get the kids out."
Jose headed to the bedrooms of Blanca, 15, and Zach, 11, while Kate ran to the basement where Evea, 5, and Emily, 8, were sleeping in the large room they shared. Her brother-in-law, Gerardo, 19, was difficult to locate because he was staying in a dark section of the basement without windows. He was wearing headphones with music playing so he didn't hear her calls.
"At first I couldn't find him but I finally grabbed his leg and shook it. I told him that he had to get up and help me get the kids out," said Kate.
With great relief, the family was reunited on the sidewalk across the street from the front of their house. Jose then ran to the back yard and grabbed a garden hose to cut down the flames so his uncle-in-law, Michael Noble, could escape. The fire is believed by investigators to have started from a discarded cigarette in or near the travel trailer that Noble was staying in.
When Gerardo realized Carly, the family's Chihuahua was missing, he dashed inside the house, which was now also burning, to bring her to safety.

Kate and Jose then told their eldest child to take her confused and frightened smaller sisters and brother to their grandfather's apartment around the corner. He had just moved to town in an effort to spend more time with the family and his place became their refuge that night.
"The kids didn't really see anything because the fire was still mostly in the back when they left," said their mother.
Relieved to have the children safe, she turned back to the burning house and watched in shock as the flames consumed everything the family owned. She had taken the phone from her shaken neighbor's hand to call 9-1-1 and 25 firefighters from Mid-Columbia Fire and Rescue battled for two hours to stop the spread of the fire, which moved through dry grass and damaged two neighboring properties.
Kate is almost five months pregnant and became worried about the possibility of a miscarriage when an anxiety attack left her with stomach cramps. Destroyed in the inferno were the car seat, stroller, high chair and clothing that she and Jose had purchased for their new son or daughter.
"My husband just put his arms around me and told me that everything was going to be okay," she said.
After it became clear the house that she and Jose had purchased four years earlier through a contract with the owner was not going to be saved, Kate walked around the corner to her father's house.
"I could still smell it but I couldn't see anything," she said.
The next morning, she and Jose took the children to see the charred ruins of the family home.
"Blanco lost it when she saw what was left and then the rest of them followed," said Kate, who struggled with her own tears when talking about the emotional turmoil faced by her children.
"We are mostly okay, but they get distraught every time the need for something they lost comes up and that happens at different times."
Greg Bigelow, principal at Colonel Wright Elementary School, is organizing a clothing drive for the Alvarez children. Donations can be left at that school, 610 W. 14th St., or The Dalles Wahtonka High School, 220 E. 10th Street. (See related story A1.)
Kate said even though she wants to focus less on material possessions now, regaining the furniture and household goods the family needs to rebuild their lives has become her primary concern. She is thankful that the Columbia Gorge Chapter of the American Red Cross is covering the cost of motel rooms for the family until they can move into a rental home, which will most likely happen on Saturday.
While Jose is working at the vineyard of the Sunshine Mill Company, she, as a stay-at-home mom, is trying to figure out how to furnish living space and come up with a washer and dryer that will keep a limited supply of clothing ready to wear.
"In general, we're pretty good. But it's hard, it's just hard," she said and then fell silent for several moments in a struggle not to cry. Kate said Bigelow and others have asked her how donations should be handled and she is asking that people call her at 541-370-5018. She said accepting help is something that doesn't come easy to either her or Jose, but they will be grateful for any support they receive to restore some order in life.
"If people have something they want to give and call first, I can let them know if it's something we have already received and where to bring it – or find out where we can pick it up," she said.
Kate said with five children, pets and relatives in her home, she would prefer darker colors for furniture but can work with anything that is donated.
Although the fire devastation is an immediate tragedy, Kate has dealt with worse. Her mother died when she was a young girl and she and her father struggled to cope with that loss. Born and raised in The Dalles, she met Jose when they were both 14 and they wed several years later. In their 17th year of marriage, there have been good times and bad times, but Jose remains now, as always, the optimist.
"He's just a rock. He has such a strong faith that everything is going to work out," Kate said.