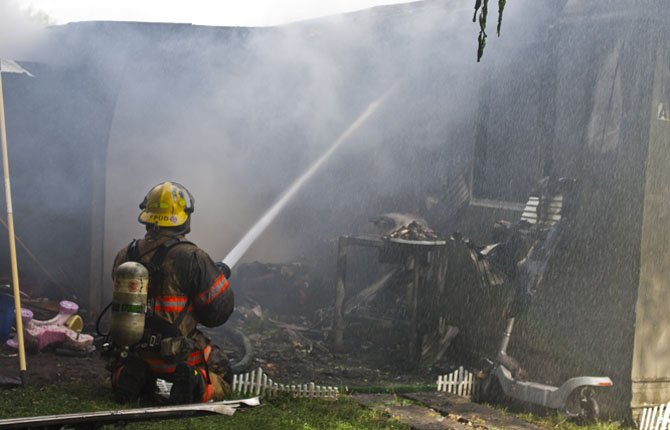 Photo Gallery
Fire at Foley Lakes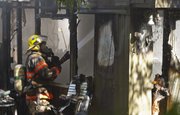 Crews battle a fire at Foley Lakes that destroyed a home Thursday afternoon, June 13, 2013.
An older single-wide trailer was destroyed by fire Thursday afternoon and investigators believe the cause of the blaze was a faulty electrical wire underneath the residence.
Eight people were living in Space 15 of a mobile home park at 4909 Chenowith Road. Christian DeLarosa and Fanny Hernandez-Duarte were sharing the residence with three children and three other adults.
None of the occupants of the home were injured but all of their belongings were destroyed by the fire. The flames were already showing in the windows of the home and black smoke was billowing out the door by the time Mid-Columbia Fire and Rescue was called to the scene.
Dispatch received a 9-1-1 call about the situation shortly before 4 p.m. and firefighters rolled up to the trailer a few minutes later.
"The fire was really spreading by the time we got there and it didn't take us more than 20-30 minutes to knock it down but we were unable to save the home," said Bob Palmer, fire chief.
Palmer said the deck on a trailer to the east of the destroyed residence was damaged by the flames.
The Columbia Gorge Chapter of the American Red Cross has provided the Delorosa and Hernandez-Duarte family with food and temporary lodging.
"We had another mobile home in Dallesport damaged recently after heat tape around pipes under the home caught fire," said Palmer. "People really need to check on these things and be mindful of anything that could potentially start a fire."
He said no one has been injured in any of the three structure fires the district has dealt with in the past couple of weeks but several families have been displaced and nearby properties threatened.
On Monday, a fire believed by investigators to have been started by a careless smoker destroyed the home of Jose and Kate Alvarez on West Eighth Street. The couple managed to get their three children and two relatives to safety. A clothing drive is now underway at Colonel Wright Elementary School and The Dalles Wahtonka High School.
"They say that things like this come in threes so we'll see if this stops," said Palmer. "It is early in the fire season to have things so dry and people need to be especially watchful for the next few months."
He said in addition to structure fires, his personnel have responded to several grass fires already this year. The National Interagency Fire Center has predicted that, based on weather conditions that are warmer and drier than normal, there is going to be more risk for catastrophic blazes this summer.
"The snow pack is already going down and the moisture content in fuels is down so this is the time of year when people need to take extra precautions," said Palmer.
He said on June 10, a Cherry Heights resident was backing his truck through the yard in order to reach a trailer that he wanted to hook up. The catalytic converter beneath the vehicle ended up setting dry grass on fire during that exercise.
"That is just not normal for this time of year," said Palmer.
He said a total ban is in effect on all outdoor burning activities. Patio fireplaces and barbecues are still allowed to be used but Palmer said people need to make sure sparks from their operation are not sent up into the air and carried into dry grass.