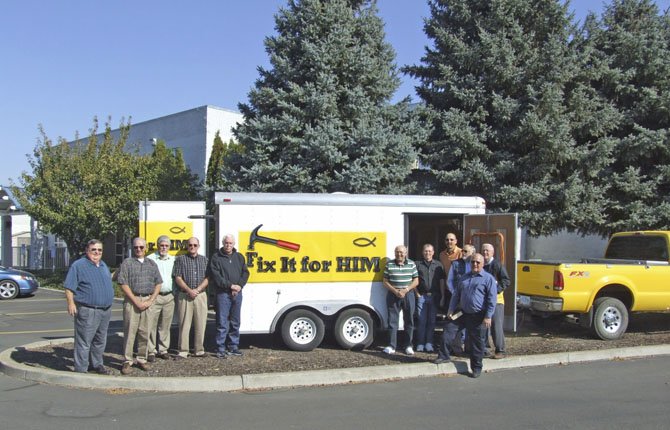 Bill Hamilton retired from Farmers Insurance and then as a private investigator on insurance matters, he wanted a way to serve the community and serve the Lord. After his second retirement, he wanted a way to serve the community and serve the Lord. He made a pitch to his church for doing projects, and initially got 15 people lined up to help out. Today, he has 85 people on his e-mail list. Not all can directly help, he said, but they can pray, or help in other ways.
The first year, which didn't get underway until May, saw some 20 projects done. Since then, they've averaged 40 a year, he said.
Projects range from simple things that take an hour to projects that take three to four days. It is all done for free, he said.
"I really want to get the message out there to people that we care about what's going on in the community and how we can help it," he said.
He anticipates the requests for projects will outgrow the capacity of the ministry at Calvary, and he hopes other churches will start their own ministries.
Hamilton wanted the focus of the story to be on the ministry, and on God.
"I want to give the glory to the Lord. Period. That's what it's about. And I want to give credit to the many people who turn out to help in the projects."
He can usually count on five to six people to help with projects.
Plenty of projects fall under the umbrella of home maintenance, but some major projects have included building ramps. The ministry is considering building a ramp now for a 6-year-old girl in a wheelchair.
One ramp project came about after Hamilton went for a medical checkup. His doctor mentioned a patient who was housebound because he couldn't afford to build a ramp from his house for his power wheelchair. Permission was obtained to contact the patient, then Hamilton inspected the home, wrote a materials estimate and headed off to Home Depot to generate a supply list. While there, a store employee, who had attended Calvary, approached him and inquired about his project, asking if he was doing it for a church member.
He said he wasn't, it was outside the church. The employee submitted the project to his employer, then came backthe next day and said said Home Depot would provide materials and some labor for the project. The total value came to around $750.
The store employee recognized Hamilton from Calvary when he came asking for prayer for his gravely ill wife, who recovered.
For Hamilton, this his perhaps his favorite story, since the project came to him unbidden, and the means to do the project also came to him unbidden.
"It was a gift" from God, he said.
As for the man who got the ramp, "He was happy, believe me. The interesting thing was, the doctor told me later, he's doing much better."
Projects range from building sheds, installing windows, raking leaves, repairing leaking chimney flashing, assembling play structures, and cutting and splitting wood.
"We put in a winter's wood supply for a man who was badly burnt," he said.
Another time, a church member noticed a man in a wheelchair attempting to fix a fence. He went up to the man and said, "How would you like it if someone fixed this fence, at no cost to you?"
The man was thrilled and the materials were donated, although it is typical for the materials to be provided by the person seeking the project, Hamilton said.
On another project a backyard was cleaned up to encourage a family facing serious medical problems and an older man who loved to work with his hands in his garage, was finding the steps down from his house, and back up to the garage, difficult to negotiate. So Fix it for HIM built a bridge connecting the two buildings. They also added a ramp down to the ground.
Hamilton ended up with another project unexpectedly when he bought a neighbor's basketball hoop for his grandson and took it down. Then he noticed a neighborhood boy come down the street, bouncing his basketball, and looking disappointed when he realized the hoop was gone. He saw the boy's disappointment and thought, "We're going to fix this."
Another hoop and a pole was obtained and the Fix it for HIM crew took the hoop to the boy's home and installed it in his backyard.
People in Hamilton's church responded with offers of the use of equipment they owned. A wood splitter was donated, as were numerous tools. Also donated was a trailer, which is emblazoned on both sides with the name of the ministry.
Hamilton has a thick binder of photos of projects, all of them showing volunteers at work.
"I try to take pictures of them and give them acknowledgement."