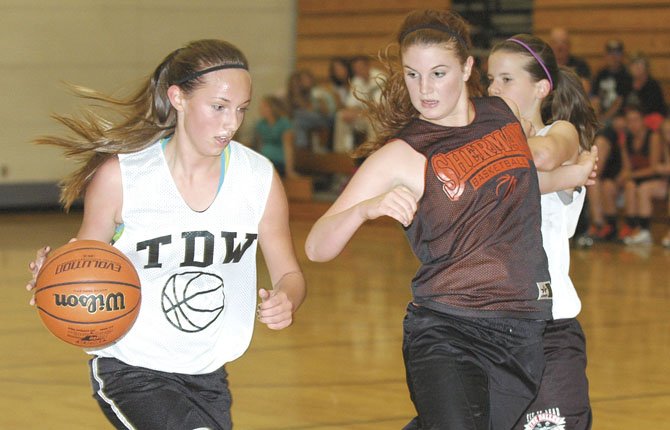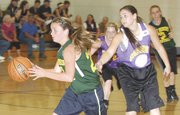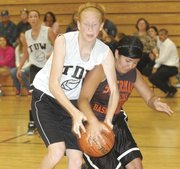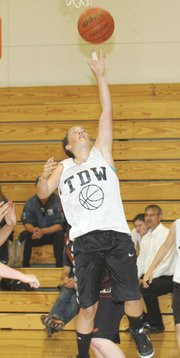 Whether you are Sonya Schmitz, Jennifer Bonham or Janet Guzman, each of these basketball players has a different perspective on the girl's hoops off-season and what is in store for the future.
All this month, South Wasco County, The Dalles Wahtonka and Sherman are in action on the hardwood playing basketball through heat and humidity – but it is not for a chance to hoist a state championship trophy, but for preseason bragging rights and hopefully a good start to the upcoming season. Young players have grown taller and bulkier, and many have invested hours on the court in an attempt to take their games to new heights. Schmitz, an incoming senior at South Wasco County, said one of the team goals was to improve aggressiveness on the hardwood.
"We were kind of weak in that area last season," Schmitz said. "We have been curing that though and I think playing this summer is helping. I think we have awesome potential next season. We are just working on what we can to improve our game right now."
Schmitz is one of the oldest on the Redsides, as an incoming freshman on the roster of several returners and anywhere from two or five freshmen newcomers, including, Lindsey Hull.
The South Wasco County team that went 12-11, finished in third place, earned a No. 3 slot in the district playoffs and ended up three points short of chalking up a state playoff berth.
She expressed her delight in having teammates sacrifice summer trips and vacations for the sake of team and further building camaraderie.
"I think it is important to be here. But at the same time, people have lives," she said. "I am proud of everyone that did show up today and I am proud of all the girls that are playing. It takes a lot of guts to play two 20-minute halves with no practice or conditioning. It means so much to me, so that when the season comes, all of us will be ready."
As a freshman last year, Bonham saw some playing time and noticed some gains overall on both sides of the ball, offense and defense.
"Basketball is one of the top sports I play," Bonham said. "I wanted to work more on my strength because I grew a lot last year. I have to get better at handling the ball too."
With the loss of graduated seniors Anndria North, Amanda Cimmiyotti, Shanelle Smith and Jessica Riggs, some spots will be open for the taking.
Two of those positions were from down on the blocks, so the 5-foot-11 inch Bonham has the size needed to fill a big role on a varsity club that won 17 games and averaged 42.5 points a game last year.
During this summer phase, she said the Eagle Indian group is working on conditioning, simple ball skills and working together as a team.
Ruthie Ford, Brooke McCall, Lori Cimmiyotti, Kailin Hoylman, Kellina Coy and a handful of other athletes suited up for three exhibition games Thursday at The Dalles Middle School.
"It is really good to play summer ball, because if we didn't play, we would be going nine straight months without touching the ball," Bonham said. "It helps with picking it back up later on, so you can stay in rhythm with the game.
We are doing really good. I am very excited to see how the season goes."
On the same thought as Bonham, Guzman, incoming Sherman junior is similar in stature, measuring out at 5-10, but there are at least four or five others like Katie Poirer, Katie Asher, Makenzie Blaylock and Meagan McKinney who are just as tall in the paint.
With that in mind, Guzman and head coach Steve Kaseberg decided on a position switch from post to wing.
Maybe this change of scenery could jumpstart her offensive game.
"It has been pretty good," Guzman said. "I still have a lot to work on, but it is getting better. I think I can help the team from there."
That is exactly the philosophy in place for Lady Husky team that lost four highly productive seniors in Samantha Coons, Audrey Kaseberg, Brooklyn Sandquist and Shelby Kaseberg.
Much of the offensive onus is placed on the shoulders of Guzman, McKinney and point guard Andie Harrison to get Sherman back to the second-place Big Sky West Division mark last season.
"I know lost four or five seniors from last year, but other than that, I think we are still a really good team," Guzman said. "All of the freshmen have been really stepping up. Every single one of them has played their game and has showed that they want to be on varsity."
Guzman categorized this Sherman bunch as more of a blue-collar squad that is her second family.
Although still summer, some of the execution is there and with additional repetitions, the style of play can only improve.
Guzman said it does not come down to size, speed or skill, but rather how smart the game is played, execution, intensity and doing whatever is needed tactically to help the team win more games.
"I think playing in summer is a great opportunity for us to be out there and get to know each others strengths and weaknesses," Guzman said. "We are all about the same skill level, so it doesn't matter if you are a senior or a freshman, everyone is going to play. We need to have that mentality that you will have a chance to help the team."