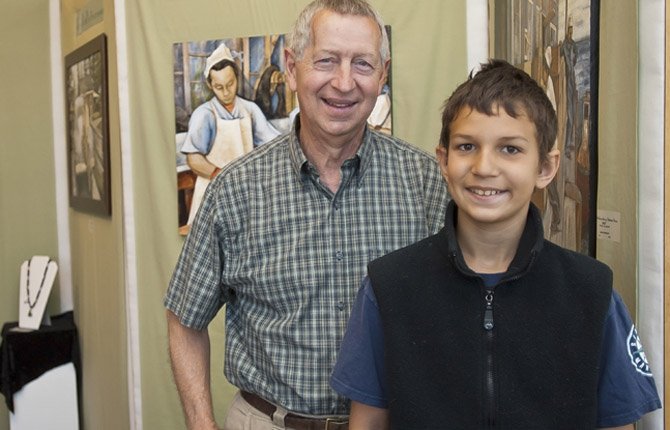 The Dalles — Bright sunlight streams through the windows at The Dalles Art Center as "Big Brother" Lloyd Walworth and his "Little Brother" Alex, 12, soak in scenes from paintings by Leslie Peterson, showing family, work and relaxation from an earlier time.
"I really like that one," Alex says, pointing to an image of children engaged in a flag football game in muted shades of brown and blue. Lloyd likes the color palette, which he describes as "inviting."
Art is one of the interests that binds together the duo, who were matched through Big Brother Big Sister of the Columbia Gorge. Lloyd is a father and a grandfather, but when he retired that meant he had time for one young boy. They have been getting together weekly for the past three years.
"Once a week," Lloyd says, "and we always plan for two or three hours."
Alex was actually the one who introduced Lloyd, a career music teacher, to the art world. On some of their visits, they get out sketch pads and draw together. Lloyd hopes someday to see Alex's art on the walls at the Art Center.
If that happens, the work will most likely be of imaginary creatures or science fiction-fantasy scenes, Alex's preferred subject matter.
Art isn't their only shared interest. Lloyd describes their typical afternoon as "do some stuff, hang out, get to know each other, have fun."
Alex says his favorite activity is riding on Lloyd's tandem bike. "Really?" Lloyd says, brightening with interest. "I would have thought you'd say Klindt's."
"Oh, yeah!" Alex says, agreeing that a book store visit is a high-ranking choice.
This summer they plan to go on a tour to the famed Tsagalalal ("She Who Watches") petroglyph in Klickitat County and have their photo taken with it.
"I'm pretty sure we've been trying to do that for a year," Alex says.
"And this season, I want to go to every county fair around here," Lloyd says. Last year they took in the entertainment at two regional fairs, including a demolition derby and a bird presenter. "Fairs are fun."
One of four children, including an older and younger brother, and an adult sister, Alex says one of the advantages for this middle child is "not being at home with my brothers," whether the one-on-one time with Lloyd includes hiking the hill trail to Sorosis Park, disc golf, or any of a variety of other activities. Occasionally, they attend some of the group Big Brother Big Sister activities, like swimming, activities night at St. Paul's Episcopal Church and Breakfast with Santa at the Moose Lodge.
Lloyd describes his experience as a Big Brother in one word: "Happiness."
"He's fun to be with, he's smart, he's intelligent, we share stuff that's interesting," Lloyd added.
He describes the experience as akin to being a permanent grandfather. Lloyd's own grandchildren live in Tacoma, Wash., and another favorite thing for the pair is visiting Jack, 13, and Anna, 10.
Lloyd has also had some involvement with Alex's family, several of whom passed through his music room during his four-decade career.
Being a Big Brother was a natural for him, Lloyd says, since his entire career revolved around children, but people who have never been parents or been around children can still be Big Brothers and Big Sisters.
"I would say, first of all, that the time crunch is not overwhelming," Lloyd said. "And the selection and pairing process is very thorough, careful and you get a good match. The cost is time, but the benefit is immense."
Lloyd is quick to note that he doesn't serve as a second father to Alex, and he assured both parents at the outset that he had no intention of trying to take over.
"I'm an adult friend that shares life together," Lloyd says.