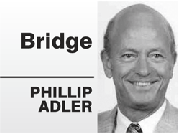 Tryon Edwards, a 19th-century theologian, said, "The secret of a good memory is attention, and attention to a subject depends upon our interest in it. We rarely forget that which has made a deep impression on our minds."
That is so often true. However, bridge fascinates many people who do not have a good memory for what has happened at the table. They also do not remember when to break the "golden rules" of the game. Which dictum should West break on this deal?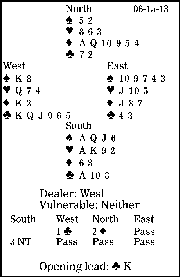 South is in three no-trump. West leads the club king. South holds up his ace until the third round. What happens next?
North made a weak jump overcall, showing a reasonable six-card diamond suit and 5-10 high-card points. South, knowing North would not have a four-card major, bid what he hoped he could make.
It is normal for declarer to play a diamond to dummy's nine at trick four. Here, that works nicely. East wins and shifts to a spade, but South takes his ace and collects one spade, two hearts, five diamonds and one club.
Instead, West must ignore "second hand low" and play his king on the first round of diamonds. Then declarer is doomed. If he plays low from the dummy, West cashes his clubs. If South wins with dummy's ace, he gets just two diamond winners.
Note that even if East has the spade king and West the diamond king, those finesses give South only eight tricks: three spades, two hearts, two diamonds and one club.
Watch out for this second-hand-high opportunity when dummy has no side entry.