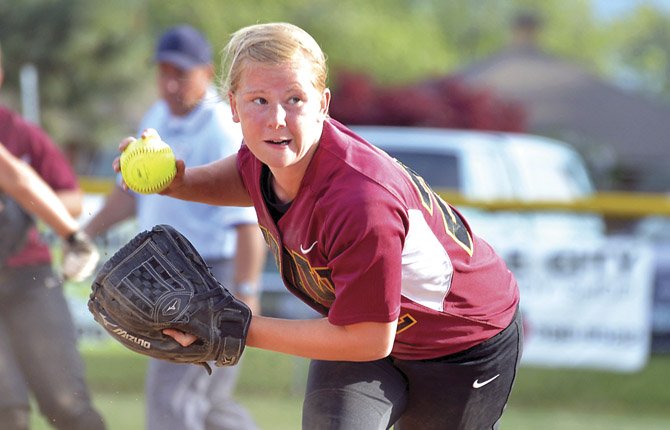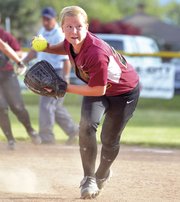 In her first full season as a varsity softball player, The Dalles Wahtonka graduate Kella DeHart proved she belonged.
What fueled her drive to succeed was the fact that she had to fight, scratch and claw for playing time, being limited to minor varsity roles in her first three seasons, before making a big splash this year as an all-league second baseman and middle-of-the-order hitter.
She now will test the waters at the next level, earning a scholarship to play softball at Blue Mountain Community College.
"I think coming out this year even though knowing I had a spot on varsity due to being a senior, it gave me the drive to prove to the varsity coaches that I belonged," DeHart said. "It gave me a chance to also prove to myself that I can be up here and hold my own."
DeHart along with teammate Melanie Taphouse, also a scholarship recipient, will join a BMCC team that went 13-25 last year.
In Northwest Athletic Association of Community Colleges play, the Timberwolves went 7-21 in the Eastern Division to finish in sixth place.
With a solid senior campaign under her belt, DeHart, who nailed her tryout last fall, is going into the season with a chip on her shoulders.
"It has pushed me a lot to go out to Blue Mountain with more purpose," DeHart said. "I see their starting second baseman and starting shortstop there and I am going in, even though they have been there a year over me with experience in college ball, I am going in headstrong wanting to fight for a position."
On the season, DeHart hit better than .300 on the season, showing she could swing the bat to all fields, lay down an occasional bunt and steal bases.
In the field, the scrappy second baseman was never shy about making the diving stop or the fundamental plays to help her pitchers.
One of her highlights came in a pivotal contest on April 20 against No. 1-ranked Pendleton.
With the game tied 3-3 in the top of the fourth inning, DeHart roped a grand slam over the centerfield fence to give TDW a 7-3 lead on its way to a 9-8 victory and an afternoon split.
She is hopeful to bring in all of those intangibles to Blue Mountain along with a pedigree of winning and a firm grasp of the fundamentals.
"They are getting a player who is headstrong and never gives up, is always ready to compete, head-up and is ready to play the game," DeHart said. "I am excited to see how the coaches down there push me 10 times more to compete at the college level and keep me going."
One thing about playing in the Columbia River Conference with Pendleton, Hermiston and Hood River Valley; the stiff level of competition is ideal in preparing athletes for success at the next stage.
Pendleton won a state championship in 2012, Hermiston advanced all the way to the state championship game this season and TDW just had a string of five consecutive semifinal berths cut short this year.
TDW graduate and 2013 All-American pitcher Ann Marie Guischer was a beneficiary of playing on a bigger stage with her stout season at Mount Hood Community College.
It could bode well for both DeHart and Taphouse.
"I think the conference that The Dalles is in is great for helping athletes perform at their best because it has some tough teams to play against," Guischer said. "You have to perform at your best in order to be successful. You could not take any team lightly."
It is one thing to break in with a winning attitude and a fresh outlook on the skill level, but DeHart is well aware of the amount of work needed to crack the starting lineup as a mainstay over the next two seasons.
She is prepared to roll up her sleeves and dive in.
"I think the main thing I will have to focus on is the speed difference, because as we have seen this year, a lot of our league pitchers vary from really fast to really slow," DeHart said. "We don't have that median where in college you will have an all-around mix of everything. I think I am going to have to adjust to all three of the different speeds, but I am ready for the challenge."
The Dalles Wahtonka head coach Steve Garrett takes pride in knowing that his philosophies help foster college and life ready athletes.
Garrett wants them to be standouts on the field, but off-field behavior shows other players, coaches and schools they are getting solid citizens.
"I think Mel and Kella will do well up there," Garrett said. "It is going to take some adjusting, so they need to be prepared for that. Will they be all-stars? I don't know, but I think they will contribute. It all comes down to them putting in the work to improve every time they step on the field."
DeHart plans to major in pediatric nursing and once her two years are completed, she will transfer to a four-year college.
She is thankful for an opportunity to put her skills to use. These last four years of softball have taught her so many valuable lessons in life.
Her biggest hope, however, is to show the athletes coming up through the pipeline that with perseverance and drive, no person can be stopped.
"I say to all of the younger kids to never give up," DeHart said. "I had the odds against me all the way through high school. People never expected me to get a scholarship or anything like that, so I encourage them to never give up and if you have something that you want to do, pursue it with everything you got."