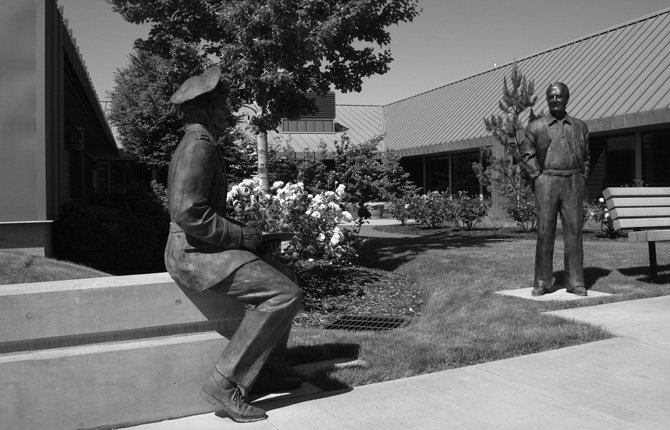 An interesting footnote came to light last week as part of Wasco County's budgeting process.
The bonds that helped build the Oregon Veterans' Home in the mid-1990s have been paid off, so local property owners will no longer have that expense as part of their tax bill.
Longtime residents will remember how The Dalles Area Chamber of Commerce and other local business people, including current Oregon Rep. John Huffman (R-Dist. 59), rallied support for the local building bond.
It would be a good economic development project. At the time, the Oregon Military Department was promising government-wage jobs.
One of the first bumps in the road came when the state reneged on that plan, contracting with private operators to save money. Certified nurses aides are not the highest paid jobs in the private enterprise world and they make the bulk of a nursing home's employment.
The veterans' home had a few news-making operational problems over the years, as well, including trouble retaining an operational organization for several years.
But what has emerged over the past decade and a half is a veterans' home that truly is a home to veterans.
The workers at the hilltop facility care for the residents with compassion, skill and good cheer.
Residents are able to live among people who share a common military background.
The Oregon Veteran's Home has also become a statewide rallying point for veterans, who often visit the facility or help provide for the needs of its residents. The Stan and Jean Adams Community Center addition is an example of veterans giving back to the facility.
The home has also become an anchor point for other services to veterans, like the Veterans Affairs Clinic built on the veterans' home campus.
To sum it up, despite a few bumps and bruises along the way, the Oregon Veterans' Home does credit to this community.
It is always a relief to see one of our long-term capital improvement bonds removed from property tax bills, but that's not all Wasco County residents should feel about the Oregon Veterans' Home.
Even though we may have voted to build the facility as a boon to economic development that didn't work out exactly as planned, we ended up creating a useful and lasting tribute to the veterans who have nobly served this country.