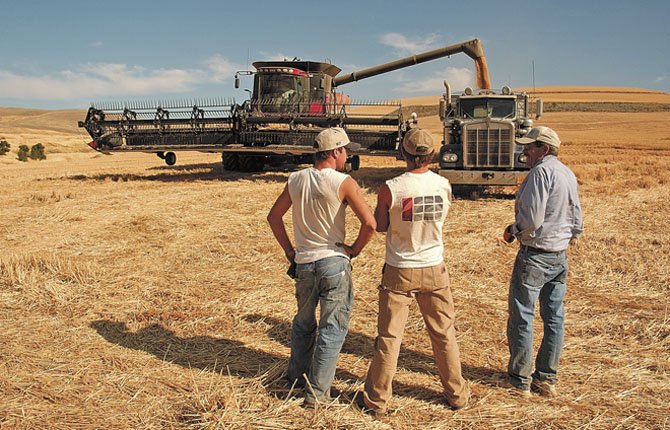 Wasco County wheat farmers are closely following the worldwide reaction to the discovery of genetically modified wheat in an eastern Oregon wheat field.
Bill Hammel, a third-generation wheat farmer on Fifteenmile, said his first thought on hearing the banned wheat was found was, "Oh gee, here we go." Indeed, global reaction was swift. The two biggest importers of Oregon wheat are Japan and South Korea, and neither accepts genetically modified wheat, which currently is not legal to grow anywhere in the world.
Japan cancelled a large purchase the day it learned the news, but is accepting other previous orders.
South Korea is testing incoming shipments, but hasn't found any genetically modified wheat. Both have delayed new purchases for now. They and a few other countries purchase 90 percent of Oregon's wheat crop, valued at $300 million to $500 million.
Bill Markman, who farms on Eightmile, said Wasco County and surrounding areas have a reputation for a very high quality product — the area is so dry the wheat is dry too, and less prone to fungal diseases — and Japan will "pay a premium" for that quality.
While he, like many other growers, believes genetically modified wheat is safe to eat — federal testing has confirmed that — he knows customers like Japan and South Korea believe differently.
"We take it real seriously. We respect the desires of our customers," he said.
David Brewer, who farms on Fifteenmile, said federal investigators are "all over this, they're giving it their full attention. I think they will come to some conclusion soon. I think we'll be able to satisfy our customers and go back to business."
Growers believe it was an isolated case, and that the investigation will confirm that.
"Nobody's out here burning their crops, thinking the world is coming to an end," said Sandy Macnab, Oregon State University extension agent for Wasco and Sherman counties.
But growers do want answers soon, he said. Blake Rowe, CEO of the Oregon Wheat Growers League, told investigators "harvest is coming up. We've got grain going in the bin in the next five or six weeks and we need to know what to do with it," Macnab recounted. "We haven't got the rest of our lives to play a waiting game."
Jeff Kaser, general manager of Mid-Columbia Producers, Inc., said there's enough domestic demand for soft white wheat — the variety largely grown in eastern Oregon — to make up for the suspension of purchases by Asian countries.
However, that domestic demand is expected to back off — wheat was being used as feed grain due to several consecutive years of poor corn crops, but this year's corn crop is looking good — and if the Asian markets don't pick back up, then that could become a problem, he said.
But overall, Kaser said the late May announcement of the discovery of the genetically modified wheat — which is resistant to the herbicide Roundup — only caused a small price drop in what's called the forward cash market. It went from $7.80 to $7.70 a bushel, he said. But the price has since dropped to $7.50 on the news of the anticipated strong corn crop.
He said exporters who buy grain from here "took a little bit of a break that afternoon, but the next day everybody was back bidding.
"Obviously, somebody's out there buying it. Some countries aren't as concerned about it as others," he said.
While the discovery of this banned seed — which had been tested in Oregon a decade earlier, but not on that parcel — is a unique issue that has never come up before, it still represents just one more risk in farming, of which there are many.
Hammel said his biggest concern is if the Asian markets don't pick back up. He's wondering, "What's it going to take to get the countries back in and relaxed, so they'll continue buying."
Right now it's a waiting game while the federal Animal and Plant Health Inspection Service investigates. It has put significant manpower on the case, but hasn't said when it will have results.
The banned seed is manufactured by Monsanto Co. Monsanto also created the genetically modified seed.
Markman hopes the investigation will allay any fears.
"Hopefully it proves out to be insignificant." He added, "We do have a safe product."
He said, ironically, the federal agencies and universities now investigating the issue are the same entities that have concluded it is safe for human consumption. But he acknowledges that was "beside the point" because "we're raising a product that we want to sell and we have to reassure our customers this is a safe product."
Macnab agreed it was a safe product.
"There's nothing in the genetics that will make you grow a third eye in the middle of your forehead. It's not a frankenwheat."
But he recognizes that Japan has been the area's most consistent cash customer for years, and it has a ban on genetically engineered grains. "We don't want to upset them."
In fact, it was pressure from farmers that convinced Monsanto to drop its testing of the genetically modified wheat, he said.
The modified wheat was found on a small portion of a small field, which Monsanto said it was told was an 80-acre field. The field has been reported to be in Umatilla County, but Macnab said he only knows that it's not in Wasco or Sherman counties.
Brewer said he doesn't personally have an issue with genetically modified wheat. "Our customers don't want it so I choose not to plant GMO crops."
But he does have some concerns about the so-called Roundup-ready wheat that was tested in Oregon until 2001, and was found in the eastern Oregon wheat field. Because it is bred to resist Roundup, it would force farmers to use a different herbicide that is more dangerous, Brewer said.
"Paraquat is an old chemistry, but its one that actually killed people. It's a restricted-use herbicide because it's dangerous to the applicator."
"We're dependent on Roundup to control our weeds and volunteer wheat." Roundup is important for use here because farmers use a no-till system, meaning farmers only grow the crop every other year on a field, and then let it lie fallow for a year to absorb more moisture over winter. The area only gets 12 to 13 inches of rain a year, which isn't enough to grow wheat crops annually, as some other parts of the country, and even other parts of Oregon do, Hammel said.
No-till helps preserve soil and the long-term sustainability of farms, Brewer said. Water erosion is the biggest threat to soil, owing to the steep slopes in the region. Fallow fields have last year's stubble still in the ground, which protects it from erosion and helps retain moisture.
Brewer noted that the vast majority of corn, soybeans and cotton acres in this country are planted to approved genetically modified seed in the U.S.
The genetically modified wheat that was found in the eastern Oregon field was planted in 2011 and harvested in 2012. The farmer detected the problem when he was spraying that field this past spring to kill weeds and any volunteer wheat that had started growing.
He discovered that some of the wheat he sprayed with Roundup didn't die. Suspicious, he notified an Oregon State University scientist.
Macnab said that scientist, Carol Mallory Smith, initially thought, "No way, no way it could be [genetically modified.] She ran the simple test, came up positive, thought she did something wrong and ran it again."
She then called the US Department of Agriculture, which sent investigators to take further samples from the field and investigate how the situation occurred. The testing "is extremely complicated and time consuming," an agency fact sheet stated.
Brewer said "the logistics for how this happened in Oregon are really suspicious to me. I don't know who did it, but I find it really unlikely that it happened accidentally."
He doesn't think the farmer did it.
He said it may be someone hoping that if customers discovered they had already consumed genetically modified wheat with no ill effects, they might decide it wasn't so bad after all.
"It seems odd to me that this whole thing showed up in soft white wheat, which is a very small portion of the U.S. wheat production and almost all exported," Brewer said.
Brewer said he was told the farmer planted two varieties of wheat on multiple fields, but the genetically modified wheat only showed up in one part of one field.
Several farmers have already filed lawsuits claiming lost income from the seed discovery. Brewer said he was also approached by an attorney, but declined to pursue it.
Kaser said if the area needs to begin testing seeds before export, it could, since it always keeps seed samples on hand for a time.
"Typically we will dispose of the samples after three to four months, but this year we'll probably keep them longer just as a precaution."