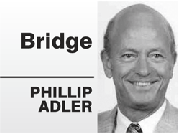 James Patrick Murray, a former sportswriter, said, "Show me a man who is a good loser, and I'll show you a man who is playing golf with his boss."
That reminds me of a story about Sam Snead, who still has the most wins on the PGA tour. While an office boy, he was playing golf with his boss. They reached a downhill par 4 that was more than 300 yards. Snead, who had the honor, waited. His boss suggested that Snead should hit his drive. Snead pointed out that the foursome in front was still putting on the green.
"Do you want a job tomorrow?" asked his boss.
"Yes, sir."
"Then drive."
Snead hit his ball onto the green into the middle of the foursome. I hope the boss apologized to them. And I guess that Snead won the match.
At the bridge table, it is important to track losers. In this deal, how should South play in four spades after West leads the diamond queen?
South has five losers: three hearts and two diamonds. He can discard a heart on the club ace, but needs to trump a diamond in the dummy (unless the suit breaks 3-3).
Declarer should take the first trick on the board, pitch a heart on the club ace, play a diamond to his ace, and lead another diamond. In a moment, he will ruff his last diamond with dummy's spade 10, so that East cannot overruff.
South will take six spades, two diamonds, one club and that diamond ruff in the dummy.