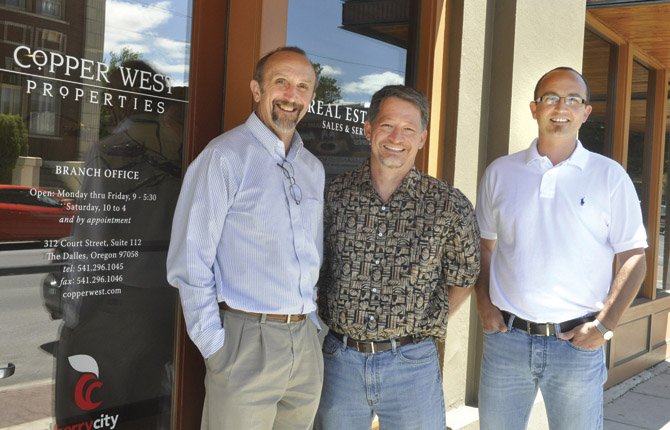 A group of seven longtime The Dalles-area real estate brokers create a local branch of the Copper West Properties firm based in Hood River.
Dennis Morgan, Keef Morgan, Bob McFadden, Bob Smith, Carolyn Layson, Bonnie Long and Jim Rodey are the brokers involved. In addition, the Cherry City Properties team of Lauren Hyland and Taylor Stradley will be providing property management services out of the Cop9per West Properties location at 312 Court St., in the Commodore II building.
Copper West is jointly owned by Maui Meyer and Ben Stenn of Hood River.
"We each have our own reasons, but at the end of the day, I'm not going anywhere in The Dalles without the Morgan boys," Meyer said. "And we felt our technology was getting to the level where we actually could have another office."
"We do have deep roots here," said Dennis Morgan. "Keef and I care a lot about the community and hence investing in the community."
Morgan said he and Meyer have known each other as long as they have been in real estate in the gorge.
"In talking with Maui, the opportunity to pursue this seemed obvious and beneficial to everyone," Morgan said, noting that since the company is gorge-owned, all the revenues stay in the gorge.
"One of the things I do on the side is work for the Rural Development Initiative, traveling around the state," Meyer said. "It's so important to try to save every dollar within the community."
Between the news technological tools available through Copper West and the experience of the brokers involved, Morgan said the company will be able to give a high level of attention to detail and customer care.
Meyer said Copper West was started with the idea of getting away from the "golden jacket" salesman approach.
"We're members of the community, competent business leaders, mentors and professional negotiators," Meyer said. "We're not just sales people."
For Keef Morgan, being part of an independent brokerage was also an attraction.
"It doesn't make sense to have anything leaving the community and this is a strong brand already," he said.
Copper West will provide a better marketing platform, Keef Morgan said, while the individual brokers' customer service will remain based on personal relationships and tailored to the community, as it has been.
Meyer seconded that.
"Every market in real estate is different," he said. "Even 10 miles away — even Mosier is different from The Dalles."
For more information about Copper West Properties in The Dalles, call 541-296-1045.