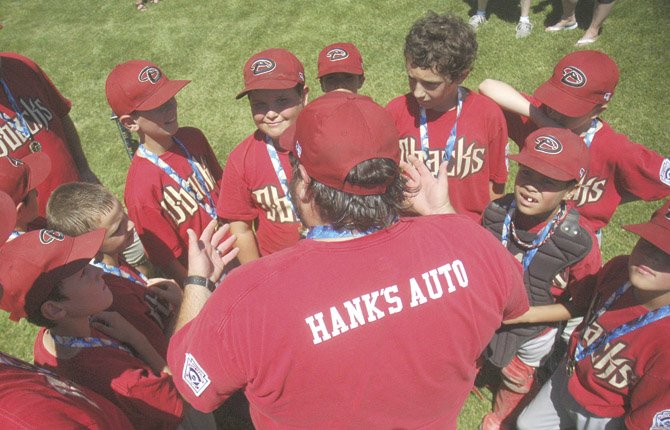 Photo Gallery
Hank's Auto versus Griffith Motors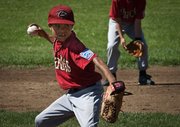 Hank's auto versus Griffith motors championship game Saturday, June 15 at Kramer Field.
It took just 43 minutes for the D-Backs to impose their will against the Pirates.
Five players had two hits and pitcher Trenton Schacher tossed three innings of two-hit ball to lead the D-Backs to a 12-1 mercy-rule win in a The Dalles Little League Minors Division city championship game Saturday at Kramer Field in The Dalles.
In two playoff games, the D-Backs amassed 25 runs in lopsided wins over the Pirates and Yankees.
First-year skipper, Nick DeLeon, chalked up this impressive two-game sweep to this team being dialed in from the first pitch to last.
"It had been an issue with this team for a lot of the season. It was focus," DeLeon said. "That was the one thing myself and these other coaches wanted to preach was focus, game-in-game-out, and practices. In this tournament, the focus was there for both games. We 10-runned both teams, the kids played their hearts out and as a coach that is all I can ask for."
Saturday, the D-Backs had 13 straight batters reach base in the second and third frames, including six consecutive hits in a five-run second inning.
It was as if the hitting rhythm infected the entire roster.
"Focus is what we have to do to win. Since Monday, we practiced before the game, we have been hitting the ball really good, and that is why we hit the ball good today. We can be very scary because we have lots of fast runners and really good players."
After a leadoff walk followed by a stolen base by Braden Schwartz, Drew Evans roped an RBI double to left to chase home Schwartz and run the count up to 3-0.
Shane Floyd then singled to left and Raul Vega Jr. laid down a perfect bunt to put runners on first and second base.
Styles DeLeon and Alex Wood followed with back-to-back RBI singles to pad the D-Back lead up to 5-0.
Schacher capped the five-run splurge with a two-run double to center field to bring in DeLeon and Wood to make it 7-0.
In the bottom of the third, Gaven Lutgens walked, Mathew Chudek hit an infield single and Aaron Pyles was plunked to load the bases.
Schwartz then walked and then Evans and Floyd capped the five-run outburst with back-to-back two-run singles.
DeLeon went 2 for 2 with two runs and Schacher added two hits, a run and three RBIs.
Chudek, Evans and Floyd combined to go 6 for 6 with three runs scored and six RBIs.
"We were hitting like no tomorrow," Chudek said. "It feels really good to play this way. Me, Trenton, Styles and everyone worked really hard, they were all doing their job."
On the mound, DeLeon and Schacher stymied the Pirate hitter to the tune of two hits in four frames.
The Pirates did not notch their first hit until the first batter of the fourth inning.
Schacher, who earned the Minors Player of the Year honors, scattered two hits, hit a batter and struck three in his three frames of work.
"I had a new grip that was making my pitches faster," Schacher said. "That was something I was working on in practice. The last two games, I have been getting 1-2-3 and that is how we did it today."
Bradley Bowman went 1 for 2 with a run scored, and Peyton Beeks chipped in the other hit.
Conner and Cooper Cummings received a walk each, and Spencer Guscette and Masyn Gunter reached safely after being hit by a pitch.
The Pirates needed to take the long route to the title game, winning 13-10 Monday over the Phillies.
On Wednesday, the Pirates clinched another close final by inching past the Red Sox by a 9-8 score to earn a championship berth.
Beeks had no ill feelings on the season and all of the good things the Pirates did this campaign.
"We did good because of the coaches and stuff," Beeks said. "I think we were pretty good this year. I think we were good in hitting and we are pretty good at pitching and fielding. We didn't win, but it gives us the hunger to come back and do it next year."
Styles DeLeon is a first-time champion, Chudek had his initial title journey run and after three previous years of finishing with a pair of seconds and two thirds, it was a relief for Schacher to finally grab his initial crown.
Most of the main gunners will be back in 2014 for another championship.
"This will give them something to look forward to," coach DeLeon said. "Just knowing they have this under their belts, they will go to work next year and hopefully work harder for their next coach. The way they finished this, these kids should have their heads up for next season."