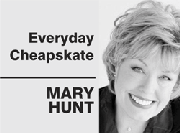 You know what I really like — OK, pretty much love? A perfectly chilled salad plate and salad fork. That to me is the height of culinary perfection. The problem is I hardly ever remember to chill the plates and forks in time. Picture me doing the Happy Dance when today's first tip popped out of my email inbox.
STACK 'N' CHILL. Chill and store glass salad bowls or plates in the refrigerator. Keep all of them nice and clean by enclosing the top one in a plastic bag. Use them from the bottom up. The bag on top keeps the whole stack clean. — Rhoda, Florida
QUICK RELEASE. To prevent that awful suction that keeps a full bag of trash hopelessly suctioned inside a plastic trash can, drill a couple of holes in the bottom of the can. Now air can easily displace the bag as you lift it out. Slick solution, and so easy, too. — Ed, Kentucky
NO MORE FLEAS. Blue Dawn dishwashing liquid gets rid of fleas fast. Just give your pet a nice, warm water bath, using blue Dawn as you would shampoo, scrubbing the pet thoroughly to make sure you leave no place for fleas to hide. Rinse well, and you will be amazed at the result. — Todd, email
DOG HAIR CLEAN UP. The best way I know to remove dog hair from chairs, sofas and so forth is with a pumice stone. I learned this from a car dealer, and it works like a charm. Just rub the stone toward you, and the hair just balls right up in seconds. I find pumice stones at my local dollar store. — Christina, email
CRUSHER ROCK. Find a smooth river rock that is somewhat flat and about the size of your palm. Look for one that is comfortable and not too heavy in the hand. When you first pick the rock, run it through the dishwasher a few times, and it's ready to use to crush garlic. If you don't have a dishwasher, just wash it in hot, soapy water with a bit of bleach. To crush garlic, hold the rock and smash it on a clove. Pull out the skin, and there you have it, crushed garlic ready to cook with. Cleaning the rock is a dream. Just throw it in the dishwasher utensils basket, and it will last for forever. — Sally, Washington
BAG SEALER. Keep a roll of blue painter's tape in your kitchen utensil drawer. It's perfect for resealing bags of crackers, chips, nuts and anything else you don't want to get stale. This type of tape re-sticks over and over and even stays sticky in the freezer. — Martha, Indiana
Email Mary at mary@everydaycheapskate.com, or write to Everyday Cheapskate, P.O. Box 2099, Cypress, CA 90630.