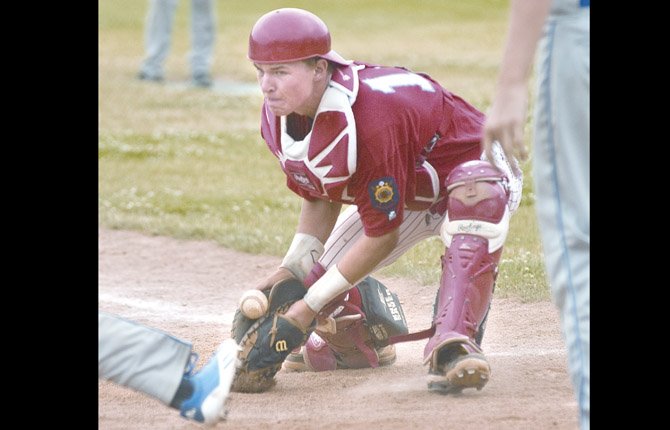 The Columbia Gorge Hustlers ran their winning streak to four games after rolling to a two-game sweep with wins of 7-2 and 11-1 over the Northwest Star Knights Tuesday in American Legion baseball play at Quinton Street Ballpark.
In the opener, the Hustlers were clinging to a 3-2 lead in the bottom of the fifth frame, but a four-run outburst sealed the win.
After a leadoff walk to Austin Wilson, Beaux Watt blasted the first pitch he saw for a two-run home run to move the lead to 5-2.
Justin Sugg then followed with a triple and he scored on an RBI groundout by Connor Mathisen.
One out later, Lucas Denney slugged a 1-0 pitch over the fence for a solo run to cap the scoring.
Over the final two innings, Mathisen retired six in a row to slam down a win.
Watt went 2 for 3 with two runs and three RBIs, and Sugg, Denney, Steven Bartells, Nick Weekly and Wilson scored runs.
The Hustlers got off to fast start in the nightcap with two runs in the first inning, added five in the second and added a three-spot in the sixth inning to dominate 11-1.
Denney paced the Hustlers' 13-hit barrage, going 3 for 4 with two runs scored and three RBIs.
Bartells and McCall had two hits apiece and three RBIs, Sugg scored three times, Mathisen crossed home twice.
Wilson got the start on the mound and tossed three innings of three-hit ball with two strikeouts and a walk.
Weekly and Denney combined for four innings of relief and gave up one hit and seven strikeouts.
Hustlers drop Tri-County in two
Over the weekend, the CG 'AAA' Hustlers got the start on their winning streak with two wins by scores of 7-4 and 7-1 over the Tri-County Outlaws Saturday in Hermiston.
In the first game, the Hustlers broke open a 1-1 tie with four runs in the third inning and never looked back in their three-run victory.
Nick Weekly drove in two runs with a single, Steven Bartells had an RBI fielder's choice and he later scored on an error to make the score 5-2.
Nolan McCall singled and scored on a wild pitch in the fourth to extend the lead to 6-2, but the Outlaws came back with two runs in the fourth to creep to within 6-4.
In the sixth frame, the Hustlers added an insurance tally after Sugg singled and Weekly singled him home.
Weekly led the way with a 3 for 3 effort with three RBIs and a run scored.
Lucas Denney and McCall had two hits each, Sugg scored twice and Bartells drove in a run and scored once.
The Hustlers completed the sweep by a 7-1 score, as McCall went 2 for 3 with two runs scored and both Denney and Austin Wilson had two hits each.
In the third inning, the Hustlers had hits from Bartells and McCall and they scored on passed balls to gain a 3-1 advantage.
Up by two runs, Wilson and Clay Copper reached base on hits. Payton Eaton received a walk to start another three-run rally in the fourth inning.
All three of them scored on passed balls to run the count up to 6-1 through four frames.