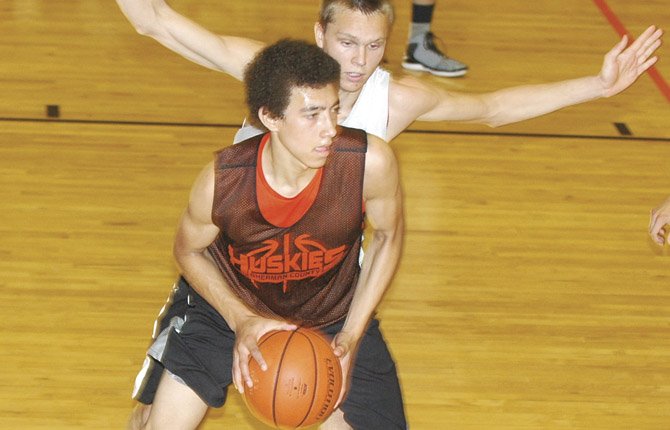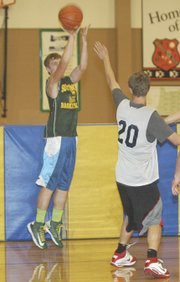 Moro — There are never enough big-time basketball games pitting the best of the best in the Big Sky West Division.
This past weekend, the top three teams in the 2012-2013 standings, Horizon Christian, South Wasco County and Sherman, were on hand in the annual Husky Basketball Tournament at Sherman High School.
After four days of boy's hoops play, the Hawks hoisted tournament gold, while the Huskies placed in the top-4 and SWC garnered eighth place.
Winning a tournament crown is an impressive feat for the Hawks, who lost in the championship game 41-39 to City Christian and will suit up without the services of 6-foot-7 inch center Jake Wells.
However, they'll have Micah Engel, Mason Bloomster, Jared Davis, Ryan Aldrich and 6-foot-5 all league forward Matt Totaro.
Davis, a returning junior guard, admitted that it is a major adjustment to the game, but they have handled it pretty well thus far.
"It is hard. You can't ever replace a 6-7 guy, but we are working on changing our defense a little bit, so our focus is more on team defense rather than just on one person," Davis said. "This year, we cannot rely on just one person to help in the middle on defense, so we have to be accountable for our mistakes."
With Wells on the roster, the Hawks improved on defense dropping from 43.3 points allowed to 37.4 in posting a 30-1 record and a third consecutive Big Sky Conference title.
This summer has been pivotal establishing player continuity for the winter campaign.
"It has been good. We have to work on everything and get better every day," Davis said. "It is a good start on what we are doing, but we've got to keep working because we have a long way to go in order to compete against some really good teams in our league."
As one of the smallest guys on the court, Davis adds a speed and hustle element to the roster at the guard slot, but offensively, he realizes his overall game needs to be sharpened.
He can drain a long shot, stop and pop from mid-range and speed past defenders to make a move to the rack.
"I think I can get better, but it is a work in progress," Davis said. "I have to work every day. I have been practicing every day, just trying my hardest. It has been hard, but hard work pays off in everything."
One team that took the Big Sky by storm in 2011-2012 was the South Wasco County Redsides.
This group padded its win total from 14 games to 21 last season, and earned a district-title game berth, moving to the second round of the state playoffs.
A 50-47 loss on the road to Country Christian ended the Redsides' possible run to Baker City.
A major reason for the turnaround circled around a philosophy of change instilled by long-time head coach Jim Hull.
He loosened the reins and allowed his team to play a faster style of ball, using defense to create offense and rebounds and quick passes for a counter-attack.
The offensive numbers swelled from 51.4 points a game to 58.8 and much of the scoring burden was spread through the roster.
"We pushed the ball more and it worked out great for us," said forward Tucker Nannini. "We are using that style this year. We are executing better and getting out in the fast break quicker. We definitely learned a lot through the season and our confidence was boosted in the state playoffs."
If they are going to further maximize their potential, the Redsides will have to fill a hole at the center position without the services of second-leading scorer and leading rebounder, the 6-1 Wyatt Creel.
There are some options with six-footers Loreto Morelli, Nathan Duling, Ellis Rager and Nannini, a 5-8 power forward.
He realizes an expanded repertoire of defense, physical play and rebounding against some of the bigger athletes on opposing teams is what will be his calling card.
"I think I will be up for the challenge," Nannini said. "It will be hard because I am shorter than everybody, but I have been bucking hay since I was a little kid so my job is to muscle up under the hoop. I really like being the physical presence on this roster. It gives me my own role on this team."
While Horizon boasts a good winning pedigree with a large number of returners, as does SWC, Sherman is also a winning entity, but its youth presents a wild card in prognosticating how things will unfold.
The Huskies lost three seniors, including Riley Brown and Brian Simantel on a team that went 18-12 a season ago.
Help is on the way with the infusion of a group of up-and-coming freshmen in Kyle Fields, Max Martin, Isaiah Coles, Ryan Asher and Anthony Lloyd.
Last year in middle school, this squad cruised to a 15-0 record.
In his first summer session under Coach Mike Somnis, Coles is feeling good about the direction of the team.
"I think we are doing great. It is summer league right now, so we are getting ready for the season," Coles said. "We need a lot of practice, but I think we will be fighting for a district title."
Along with the impressive group of freshmen, sophomores Wyatt Stutzman and Alex Fields will be contributors.
Point guard Nick Coleman, sharpshooting small forward Austin Kaseberg and senior swingman and leading scorer Jailin Conboy make up a lot of the scoring threats.
Both Brown and Simantel measured at 6-1, so Coles and Cody Jauken now make up the frontcourt as a pair of six-footers.
At last week's tournament, the Huskies started out 4-0 to advance to the semifinals, but lost their last two games to finish fourth.
As one of the forwards, Coles said he has placed extra emphasis on getting bigger, faster and stronger with more post moves.
"I think I have to improve in everything a little bit," Coles said. "I have worked on my post moves, my shooting and conditioning. I think I will be a post presence this season.
I think I am quick and big and I am still growing a little bit more, so I can play down low. I am really excited about the season and what we can do."