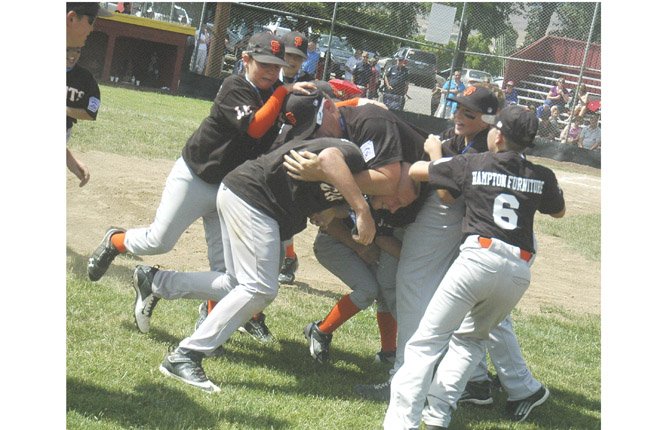 The Dalles — With The Dalles Little League Majors city championship on the line, it came down to power versus power in the final at-bat.
A pair of all-stars stood across from one another, Henry Lee representing the Giants, was on the mound nursing a 6-4 advantage in the top of the sixth inning with Tyler Vassar and Zach Anderson, who both singled, representing the tying runs in scoring position with two outs.
Sam Thalhofer, the cleanup hitter for the Athletics, dug in at the plate with an opportunity to lead his underdog squad to title glory.
With the count 1-0, Lee fired a fastball home for the first strike.
On the next toss home, Thalhofer took a wicked cut, but fouled the ball off to make it 1-2.
Again, Thalhofer fought off another heater inside with another foul behind the backstop, so the count remained at 1-2.
Pitch No. 5 nearly had the Giant fans jumping and cheering, but Thalhofer checked his swing on a high pitch to run the count to 2-2.
Lee uncorked another fastball and Thalhofer hit a little dribbler in front of the plate, Lee hopped off the mound, scooped up the ball and made a quick toss to Devon Eiesland at first base for the final out to give the Giants a 6-4 triumph in The Dalles Little League play at Kramer Field Saturday afternoon.
As the main sponsor of the Giants and many other teams through the years, Hampton Furniture has enjoyed winning titles in four of the last five seasons.
In that last inning, so much was riding on the line for Lee, who was playing in his final little league game.
"I was really nervous," Lee said. "My mind was on the batter. He is a good player. If I didn't get him out I would have been really mad at myself."
The Athletics had several opportunities in this game to score runs and turn the tables on Lee.
They had seven hits off Lee, the league's Most Valuable Player, and left four runners on base, three in scoring position.
The Giants scored a pair of runs in the bottom of the first inning on an RBI single to center to chase home Michael Armstrong.
Lee, who singled earlier in the frame, swiped home on the throw back to the Athletic pitcher to make it 2-0.
In the second inning, the Athletics put one run on the scoreboard on a passed ball to make it a 2-1 margin, but then the Giants went to work in the third to swell the lead to four runs.
Eiesland scorched an RBI single to plate Gabe Helseth to run the count up to 3-1, and one out later, Dustin Clark hit a hard shot that bounced over the Athletic third baseman, Thalhofer, for a two-out, two-run double. The hit brought in Armstrong and Lee to make it 5-1.
Down by four runs in the fourth, the Athletics rallied against Lee with three runs on three hits.
Andrew Carlock and Anderson had back-to-back hits to put runners on second and third base with no outs for Thalhofer.
The right-hander then rifled a two-run triple to right field scoring Carlock and Anderson to creep the A's to within 5-3.
Baily Hajicek then bounced into an RBI groundout to score Thalhofer and inch the A's closer to 5-4.
In the bottom of the fifth frame, Lee reached on a walk, advanced to third on a throwing error and scored on an errant throw to add an insurance run for the Giants.
Lee tossed six innings of seven-hit ball with eight strikeouts and no walks. Three of the four runs allowed were earned.
Thalhofer and Anderson paced the Athletic offense with two hits apiece.
Thalhofer had a triple, scored two runs and drove in two more.
Vassar, Carlock and Blake Kienlen each had one apiece and Hajicek drove in a run.
The Giants were led by Devon Eiesland, who went 2 for 2 with a walk and two RBIs. Dustin Clark added a double, an RBI and received a walk.
Lee went 1 for 1 with two intentional walks and three runs scored.
For Armstrong and his father Michael Sr., this is their first title in four Little League seasons.
"I am really excited that we finally got one to take home," the younger Armstrong said. "This win feels really good because we know that our hard work paid off. We practiced hard to get here and we won a championship."
Mike Sr. was all smiles, celebrating with a Gatorade bath moments after the final out was recorded.
It was a long time coming.
He said because of the time and effort put into improving on a daily basis, winning after a long dry spell is especially pleasing.
This Giant team progressively improved through the year, ending with a 13-3 overall record.
"When this team came together, honestly, at first sight, we kind of looked like the underdogs just based on the fact that we had Henry Lee, who is a great powerhouse," Mike Armstrong Sr. said. "Besides him, we have a lot of small statured kids, but we had huge heart. These kids came together, they all got along and the biggest thing was they had a leader in coach Dennis Eiesland, who is just perfect. He could not have dealt with the kids any better."
Just getting to the championship game was a huge surprise for Thalhofer, who thought this Athletics team had no chance because they lost their first four games of the season.
"At the beginning of the season, we weren't doing too good and then towards the middle of the year, we started getting better as a team, working together and not getting down on each other," Thalhofer said. "I am proud of this team for making it as far as we did. We did good, but we could have done better. I still think we had a pretty good season."
This 2013 crown was his Lee's third. He capped is final Little League season with an MVP award.
He considers his career complete.
A new challenge waits next season with Babe Ruth baseball coming up.
"Little league was so much fun. This field is like my second home," Lee said. "I have gotten better at hitting and pitching. I got my curveball down, so I have improved a lot since I first started. I need to work a lot more on my batting and with my pitching a little bit. I think I can get better. I am barely scratching the surface of what I can do."