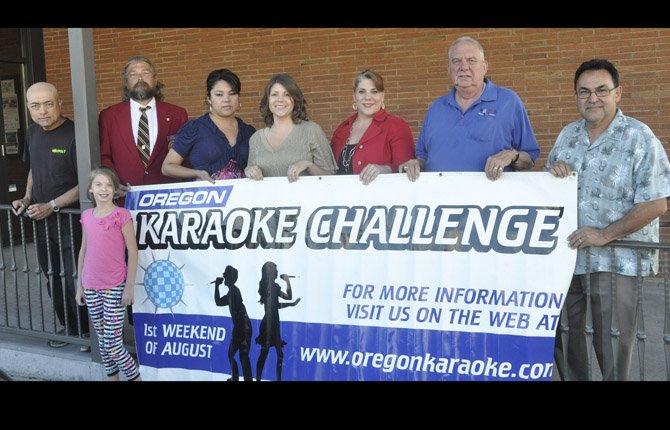 The Dalles — Eloy Pando has visions of one day seeing one of his contestants working with a superstar on "The Voice."
Pando is working to bring karaoke out of dimly lit bars and into the daylight with his Oregon Karaoke Challenge. The event, formerly the Gorge Karaoke Challenge, is in its second year and has already spread beyond the gorge. This year, Pando has added not only Hood River, but Hermiston to the mix. He plans to add a new city every year.
Qualifying rounds are under way through June for some of the 10 business-sponsored teams. Last year, the event had only three sponsors. Optimist Printers hosts the next qualifying round on Thursday, June 20, at 3:30 p.m. Allen's Market will have its second qualifying round Thursday, June 27, at 5 p.m.
"It's amazing, when I first started I didn't know what to expect," Pando said, "because karaoke has the stigma of being a barroom thing. I thought it would be hard selling it."
But last year's final competition drew 15 singers and an audience of more than 150.
"It was really neat," he said. "The entire family showed up — tots to grandma and grandpa."
The event is designed to showcase local singers and anybody can compete to qualify for one of the teams.
This year's event will have 50 singers and two elimination rounds before the final showcase, which Pando plans to have during the first weekend of August leading into the other big events of the month, Neon Nights, the Dufur Threshing Bee and the Wasco County Fair.
The oldest competitor (so far) this year is Dick Coulson, 68, and the youngest is his granddaughter, Alexandria McAllister, 10. Both singers compete for the Moose Club team.
"I've been in musical theater for the past 25 or 30 years," Coulson said. "I ran the 'Moose Idol' the last five years and won first place in the over-40 category. I love to sing and perform on stage."
Coulson plans to draw from the Rat Pack for his performance: songs made popular by Frank Sinatra, Bobby Darrin and Dean Martin.
At the other end of the spectrum, young Alexandria plans to draw from today's top performers: "Girl on Fire" from Alicia Keys, "So What" from Pink and, in a retro nod, "Breaking the Wall" from Pink Floyd.
Last year's grand prize winner, Dia Nickelsen, won singing country favorites.
"This was very different from the other competitions I had been in before, because of the fact that it was a family affair," Nickelsen said. "I loved that I was singing to babies and the older generation, and the kids were dancing."
This year, Nickelsen is helping to organize the Haystack Broadcasting team.
"And I'll be doing an encore performance," she said. "I'm not doing just country this year."
Pando also hopes to put together a county fair tour of the best five to 10 singers from the competition.
"That's still in the making," he said.
Gus Niskanen, a representative of the Moose Lodge, says the fraternal organization sponsored a team in the hope of bringing new members "and to show what family fraternalism is about. The Elks, the Eagles and us, we're family places to go and have a good time. We are the heart of the community."
"We just thought it would be a cool thing," said Chelsea Albin, team leader for Optimist, which is making the event banners and other materials. "It sounded fun."
Eddie Cruz hopes to draw attention for Allen's Market and bring "a variety of customers in the store, little kids and older people, have fun and make people wonder, 'What's that music?'"
"Last year we had it on the street a couple of times for preliminary rounds," said Mel Mendez of Gameopoly. "It was a good way to get people to come by."
Learn more, or sign up for a qualifying round, online at www.oregon
karaoke.com.