I'll love you, dear, I'll love you till China and Africa meet and the river jumps over the mountain and the salmon sing in the street. — W. H. Auden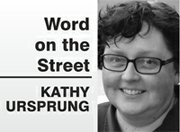 Singing your way: Salmon may not be singing in the street, as
W. H. Auden wrote, but the Nez Perce, Umatilla, Warm Springs and Yakama tribes began their commercial sales from the summer fishery this week.
Preseason forecasts estimate 73,500 summer chinook and 180,500 sockeye. Depending on the actual run sizes, Indian fishers may harvest about 20,000 summer chinook and 12,000 sockey, most of which will be sold commercially.
Both treaty and non-treaty catches will be adjusted throughout the season as the run size is updated.
Lone Pine in The Dalles is one of the handful of common sales locations in the gorge. Sales generally run from 10 a.m. to dusk. Bring a cooler and keep in mind that price is determined at the point of sale, most sales are cash only, buyers should request a receipt, and Indian fishers can advise on topics including freshness and preparation.
Details: 888-289-1855.
20/20 at Riverenza: The Dalles Area Chamber of Commerce's 20/20 program will focus on The Riverenza at 401 E. 10th this Thursday, June 20.
The mission of the program is to have an immediate positive impact on the local economy by encouraging shoppers to spend $20 on the 20th of the month at a locally owned and operated business.
Jobless rate improves: Oregon's seasonally adjusted unemployment rate was 7.8 percent in May and 7.9 percent in April (as revised), as nonfarm payroll rose by 3,800 jobs in May. Construction (1,600 jobs) and trade, transportatio and utilities (900 jobs) saw the largest gains.