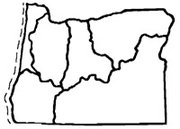 Marine Viewing
Event: NestWatch at Nestucca Bay, June 29
Nestucca Bay National Wildlife Refuge participates in the Cornell Lab of Ornithology's Project NestWatch Program. Join refuge volunteer Lee Sliman on Saturday, June 29, from 4:30 to 5:45 p.m. while she actively open nest boxes and monitors the progress of the refuge's avian families. Meet in the lower parking lot of Nestucca Bay Refuge. Nestwatch is a citizen science program where volunteers place and care for artificial nest boxes; monitor them; and then record nesting results in a nationwide database. For more information contact the refuge volunteer at 503-392-9047.
Seabird nesting is in full swing
From mainland areas that overlook coastal rocks and islands, you can see bald eagles attack nesting common murres. Around 600,000 common murres return to each spring to Oregon's wind-blown islands to raise their single chick.
Bald Eagles regularly fly out to these islands to kill a murre to feed their own chicks creating panic in the common murre colony. As the murres flee to avoid the eagles, ravens, crows and gulls often swoop in to make a meal of murre eggs and chicks.
Great places to view this wildlife spectacle are: Yaquina Head Outstanding Natural Area – the deck behind the lighthouse; Heceta Head State Park – the viewing area in front of the lighthouse; Cape Meares State Scenic Viewpoint – the north deck by the parking lot, and Ecola State Park – the westernmost viewing platform at Ecola Point overlook.
Peregrine Falcons
You can see nests with peregrine falcon chicks at both the Yaquina Head Outstanding Natural Area and at Cape Meares State Scenic Viewpoint.
Puffins
April, May, June, July best time to see Puffins. Best Place is Haystack Rock because it's so close to shore.
Tufted puffins are back on the Oregon Coast to nest for the summer and most of them are found on Three Arch Rocks National Wildlife Refuge. This sanctuary about two miles south of Cape Meares and one-half mile offshore west of Oceanside in Tillamook County. The three large rocks and six smaller ones make up the refuge, which is home to 12 species of seabirds breed here totaling 226,093 birds. This includes 30 percent of the Common murres breeding in Oregon and 21 percent of all common murres breeding in the eastern Pacific south of Alaska. This site also harbors 60 percent of the tufted puffin breeding population in Oregon. More than 800 brown pelicans have been seen here roosting and up to 13 bald eagles have been observed preying on seabirds.
Three Arch Rocks NWR can best be viewed from the mainland at Cape Meares and at Oceanside. To prevent disturbance to extremely sensitive seabirds, Three Arch Rocks National Wildlife Refuge is closed to public entry year-round and waters within 500 feet of the refuge are closed to all watercraft from May 1 through September 15.
Tidepooling
There will be minus tides June 5-13 and again June 20-29. A minus tide is an excellent time to visit tide pools and watch the life that was just a few hours ago under as much as 10 feet of water.
Look for green anemones, hermit crabs, sea urchins, small fish, jellyfish, sea stars, pinkish corraline algae, lime green anemone, dark green sea lettuce, barnacles and other animals of the intertidal region.