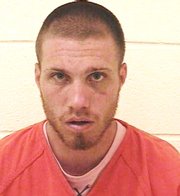 A Washington State Police chase that started at the intersection of Highways 14 and 197 ended in a crash on a residential street in The Dalles.
Troopers attempted to make a traffic stop of a vehicle driven by Jeremy Adams, 3817 W. 10th No. 43, who allegedly fled across the bridge into Oregon, according to a report logged with The Dalles Police.
"At that point, the trooper felt it was too dangerous to continue, turned off his lights and siren, and followed the guy at a distance," Waterbury said.
Troopers pursued Adams down East 10th Street until he turned onto smaller streets, finally crashing at East Seventh and G streets.
City police received a report of the vehicle being on fire and a man held at gunpoint. Officers on the scene extinguished the fire. Mid-Columbia Fire and Rescue also responded, but had to wait until the subject was placed into custody before they could evaluate the vehicle, which they found sustained minimal fire damage.
"We had to take the guy up to MCMC to have him medically cleared," Waterbury said. "It's a policy of NORCOR, if someone is involved in an accident they have to be checked out before they can be lodged."
Adams is charged with attempting to elude a police officer in a vehicle, reckless driving, driving under the influence of intoxicants, probation violation and theft of services.