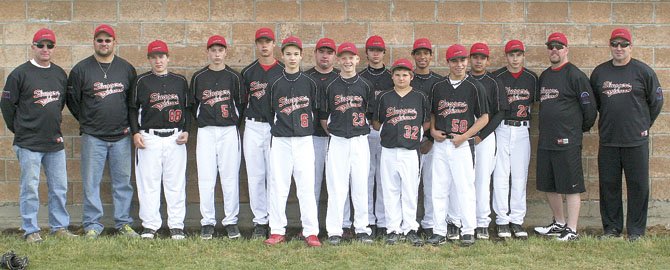 Stat Box
Sluggers Statistics
From Tournament play
Sean Herriges ..................Head Coach
Denzel Arrellano: 6-13 / BB / (2) SB / (1) RBI / (2) RUNS / 462 AVG.
Dawson Hoffman: 3-10 / (4) BB / 2B / (2) SB / (1) RBI / (4) RUNS / 300 AVG.
Preston Klindt: 6-12 / (2) BB / 2B / (1) RBI / (4) RUNS / 500 AVG.
Tyler Westin: 5-13 / BB / 2B / (3) SB / (4) RBI / (3) RUNS / 385 AVG.
Boston Bate: 6-12 / BB / (2) 2B / SB / (5) RBI / (2) RUN / 500 AVG.
Tanner Herriges: 6-11 / (2) BB / (6) RBI / (1) RUN / 545 AVG.
Izaac Tapia: 5-11 / HBP / BB / 2B / 455 AVG.
William Justesen: 2-11 / 182 AVG.
John Miller: 3-11 / SB / (1) RUN / 273 AVG.
Jacob Wetmore: 1-8 / (2) BB / 2B / (1) RBI / 125 AVG.
Court Strizich: 0-4 / (1) RBI / (1) RUN / (2) SAC BUNTS / 000 AVG.
Daniel Peters: 3-10 / (3) SB / (1) RBI / (2) RUNS / 300 AVG.
Although his Junior Baseball Organization baseball team is ages 9-11 this year, the Sean Herriges managed 14U Sluggers have hit the field against some tough squads all season with an opportunity to improve each day.
Herriges has seen it first-hand through many seasons as a coach, but to hear the compliments coming in abundance makes him proud.
"Umpires and the opposition always comment on how we are a classy team of good sports that are well-coached," Herriges said. "[It is] a direct reflection of the quality of parents that these players have. I am so very proud of these guys. They represent The Dalles baseball in fine fashion."
Last weekend, the hometown Sluggers participated in a highly skilled and competitive Father's Day Federal Classic Tournament in Forest Grove and amassed a 1-3 record in the process.
The Sluggers got off to a solid start to tournament action on Saturday, as starter Boston Bate went six strong innings and ace reliever Izaac Tapia shut the door for the save to upend Tualatin by a 6-1 tally.
In their nightcap showdown versus Lincoln, the Sluggers could not keep the momentum going, as the Portland team garnered a big surge for a 10-6 victory.
Sunday morning, the Sluggers and Kelso, Wash. played in a classic matchup that went 10 frames and ended up deadlocked at 8-apiece.
However, under time constraints officials resolved the tie by reverting the score back to the third inning when Kelso had the lead, they were deemed the winners.
This setback negated a courageous 109-pitch, eight inning pitching performance by Tyler Westin.
Sunday's final contest pitted the Sluggers against local rivals, Hood River, in a rough and tough battle, where HR came away with a 4-0 shutout triumph.
John Miller tossed five innings and threw 90 pitches in the loss.
Tapia finished up with one scoreless frame of relief work. All told, the Sluggers rapped out 46 hits and scored 20 runs in four tournament tussles.
Preston Klindt and Bate continued their torrid summer season by going a combined 12 for 24 with three walks, three doubles, six runs and six RBIs.
Denzel Arellano added six hits, two stolen bases and two runs, and Tanner Herriges finished 6 for 11 with two walks, a run and six RBIs. Westin and Tapia notched five hits each and Hoffman went 3 for 10 with four walks and four runs scored.
Rounding out the statistical leaders on the roster, Daniel Peters went 3 for 10 with three stolen bases, an RBI and two runs scored.
With one tournament remaining on the JBO slate, Herriges is eyeing development down the line.
"Our record is no indication on how well the team is playing against high caliber pitching and competition," said coach Herriges. "They need a 'refuse to lose' approach from the first pitch. Team growth is off the charts. (I am) very excited about their present and future."
The Sluggers hit the tournament field once again this weekend for a two-day event in Gladstone.