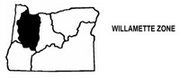 WILLAMETTE ZONE VIEWING
VALLEYWIDE
The WESTERN MEADOWLARK was voted Oregon's state bird by school children in 1927. Meadowlarks are found in grassland-type habitats where they sing from perches such as fence posts, shrubs, trees, or powerlines. Remnant grassland prairie habitats, pastures and even young Christmas tree plantations along the edge of the Willamette Valley are good places to find these birds. Listen for their liquid, melodious song. Western meadowlarks can be seen in fair numbers just north of the east end of Diamond Hill Rd. (Diamond hill road crosses I-5 at the Harrisburg exit). There are untilled pasture lands that still support the native Willamette Valley sunflower and our state bird that has such a beautiful and distinctive call. Although meadowlark populations are abundant in Eastern Oregon, they are declining in the valley because of loss of native prairie to farming and development. s their habitat shrinks nest predators like fox, skunk, raccoon and non-native opossum and house cats have an increasing impact on these grassland birds.
HARLEQUIN DUCKS are Oregon's only "anadromous" duck. This seaduck winters in the churning rocky intertidal zone at the coast and then moves inland to breed on turbulent mountain streams that mimic the crashing waters of their coastal environment. This bird has adapted to a unique way of life geared to taking advantage of the abundance of food that occurs where water flows fast and frothy. Harlequin ducks can be viewed in the spring and early summer along the middle and upper McKenzie River at Cooks Rapid or Bear Creek Rapid and the Middle Fork Willamette River around the town of Oakridge. They can also be found on the North Santiam River from Mill City upstream to above Marion Forks.
NEWTS, a type of salamander common in the Pacific Northwest, may be observed in their migration from terrestrial environs such as rotten logs and moist soil to their breeding grounds in ponds, small lakes and the edges of streams. These small amphibians may be found if you are hiking in forests during or just after it rains.
GREAT BLUE HERONS have young in their nests at this time of year. The young are very vocal when the adults arrive with food. One of the most visible colonies in the area is in a large cottonwood tree along the bike path at the east end of Alton Baker Park in Springfield (east side of I-5, north side of the millrace). Herons are usually very sensitive to disturbance and in other areas several instances of nest abandonment are known to have occurred due to human disturbance. This colony is especially acclimated to and tolerant of people. To minimize disturbance to the birds, do not approach the base of the tree from the north side of the millrace. Another very visible colony is in a stand of large cottonwood trees next to a pond on the east side of Delta Hwy, just north of the Valley River Shopping Mall in Eugene.
Many animals have young in the nest or den at this time of year. Typically the adult is foraging for food nearby and will return. Please do not pick up young birds or mammals, as this can decrease their chance of survival.
Ruffed grouse courting
Listen for a rhythmic drumming as you hike the forests this spring ― male ruffed grouse are out courting females and their rhythmic wing beating (drumming) is used to advertise their presence and draw females into their territories. Drumming starts with a slow but powerful wing beat every second, rapidly speeding up, and ending 8 to 11 seconds later. This acoustic "calling card" is repeated every 3 to 5 minutes in the early morning and late afternoon during the breeding season. Ruffed grouse are native to Oregon and can be easily identified by their relatively long, fan-shaped and distinctively banded tail in addition to their neck ruffs. Look and listen for these 16-19 inch long, brown or gray-brown, chicken sized birds in deciduous and mixed forest communities in western Oregon.
Turkeys strutting
WILD TURKEYS are actively strutting and courting during this time of year. These birds were introduced into Oregon from other parts of the U.S. where they are native. These birds are widely established in the foothills around the edge of the Willamette Valley. Look for them where there is a mix of wooded areas and pastures. Mixed hardwoods, especially oaks, are preferred over conifers. Tall pines or fir trees are often used for night roosts. Fortunately, turkeys are most active and easiest to see on warm sunny days! Landowners beware! While turkeys are fun to watch and have around, if you feed them you may create a serious problem for yourself and your neighbors. Turkeys will often become a serious nuisance when they concentrate in an area because they are being fed. Turkeys that are not fed will range widely and rarely cause such problems.
Snakes bask when the sun shines
THREE SPECIES OF GARTER SNAKE occur in the Willamette Valley. They are the most commonly seen snakes. Much variability in coloration exists in garter snakes but the best identifying characteristic is a stripe down the middle of the snake's back. No other snake species in western Oregon has a stripe down the middle. A good place to see these harmless snakes is on gravel roads and trails through wetland areas. Wildlife areas in the Willamette Valley such as Fern Ridge, Finley, EE Wilson, Baskett Slough and Ankeny are all good areas to see these beautiful animals. Best viewing conditions are on warm sunny days. 5/28/13
Eugene Area
Delta Ponds
Delta Ponds offers a great opportunity for wildlife viewing near the heart of Eugene. This time of year viewers can observe native western pond turtles as they soak up the sun basking on logs. The best time to observe turtles is mid-mornings on sunny days. The turtles will retreat back into the water if the temperature is too hot. Please try to observe the turtles from a distance to avoid disturbing them. Unfortunately, viewers will likely see Red-eared Sliders in addition to the Western Pond Turtles. The sliders are a non-native invasive species that compete with our native turtles for habitat and food.
Numerous bird species utilize the area and provide viewing opportunities including a variety of warblers, western tanagers, Bullock's orioles, green herons, great blue herons, osprey, and others.
Viewers can observe broods of ducks and geese. These can be a joy to watch but please resist the temptation to feed since unnatural food sources can cause serious health problems for the young birds.
Delta Ponds is a unique natural area owned by the City of Eugene that borders a stretch of the Willamette River, just downstream from Valley River Center. For many, it is a favorite spot for birdwatching, fishing, and hiking. Location: Goodpasture Island Rd. to Valley River Ctr. For more information, visit the City of Eugene Parks Web site.
Corvallis Area
EE Wilson Wildlife Area
Wildlife viewing remains good for waterfowl and shorebirds. Neotropical migrants in the area include yellow-breasted chat, American goldfinch, various swallows, warblers, thrush, kinglet and common yellowthroat.
Spring and summer are great times for bird watching migrants as well as waterfowl including mallards, wood duck, hooded merganser, ring-necked duck, western Canada goose. Snipe and other shorebirds are periodically seen. 5/14/13
Find directions to EE Wilson Wildlife Area.
Salem Area
Silver Falls State Park
There is a lot to see at this park located only 25 miles east of Salem.
Robins, hairy woodpeckers, hummingbirds, Oregon juncos, common raven, winter wren (a tiny bird with a big call), red-breasted nuthatch and ruffed and blue grouse can be seen and heard on a stroll along the trails. Stop and look closely now and then — you may see a well-camouflaged brown creeper working its way up the side of a tree, foraging for insects in the bark as it goes.
Stay until late afternoon or early evening. Silver Falls is a mecca for owl lovers—listen for many of Oregon's owls—barred, pygmy, great gray, great horned, saw whet and, maybe even, spotted.
It's wildlife breeding season so keep dogs on a leash—it's required. For information, visit the state parks Web site.
Sauvie Island
Sauvie Island Wildlife Area
The Wildlife Area is open — stop by your local ODFW license agent or ODFW office and get a parking permit. At $7 a day or $22 for the season, your ODFW wildlife area parking permit opens the door to a year's worth of wonderful wildlife viewing.
Bald eagles and red-tailed hawks are very active caring for their new arrivals. Anna's and Rufous hummingbirds are back in great numbers and the finches are arriving. The great blue heron rookery is visible from the Walton beach parking lot. Herons generally nest (roost) in colonies in large trees.
The ospreys are building their nests; cinnamon teal, wood ducks and gold finches are arriving.
Find directions to Sauvie Island Wildlife Area on the ODFW Web site.
Springfield Area
Fern Ridge Wildlife Area
Fern Ridge Wildlife Area is open daily for public use providing great wildlife viewing opportunities. (One section of levee in the western portion of the Fisher Butte unit is posted closed to provide wildlife sanctuary during nesting season.)
Look for waterfowl, shore birds, wading birds, songbirds, raptors, reptiles and amphibians. The Pacific tree frog chorus is raucous on warm spring nights.
Photo blinds: Eight hunting blinds located in the East and West Coyote units (located south of Hwy 126) are available for anyone to use for wildlife viewing throughout the summer and provide great photo opportunities. There is an elevated viewing platform in the Fisher Butte unit just south of Royal Avenue that is open year-round.
Visitors are reminded that dogs must be kept on leash at all times. Parking areas are located along Highway 126, Nielson Road and Cantrell Road. Contact the Wildlife Area headquarters, (541) 935-2591, if you have any questions.
Directions to Fern Ridge Wildlife Area