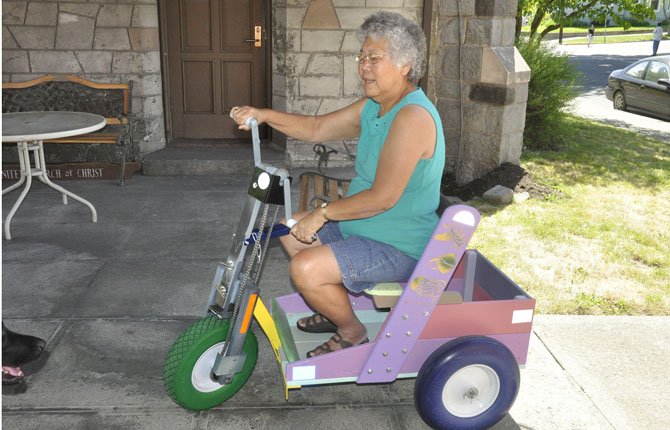 United Church of Christ Congregational is fundraising to pay for as many of the vehicles as possible.
"As part of our mission outreach, we figured this would be a good fit for our church," said Dr. Deborah Allen, pastor at UCC Congregational.
The vehicles are called "Personal Energy Transportation," and the P.E.T. Project, as it is called, has the motto of "Lifting people out of the dirt into a life of dignity and hope."
UCC has one of the PETs right now, and is taking it to at least one civic group and also hopes to take it to other churches that express an interest in raising donations for the PETs. Interested churches can call the UCC church office at 541-296-2909.
"We're hoping to be in a parade this summer with it," said Corliss Marsh, of UCC.
The church did a presentation and worship last Sunday — a child rode the PET up the aisle during worship to demonstrate it — and this Sunday, June 23, there will be a potluck after church and the church is hoping to receive more donations, Allen said.
"We're hoping we receive a goodly sum," she said.
The PETs come in child and adult sizes and are geared for moving at a fast walking pace.
With 22 million landmines scattered around the world — which kill or main someone every 20 to 30 minutes — plus the ravages of disease, disaster and birth defects, millions of people worldwide are literally stuck in the dirt, shunted to a back corner of their home or hut, unable to move or contribute to their family's survival.
A brochure tells a story about the P.E.T. Project from its co-founder, Larry Hills: "One morning I was walking through 12-foot elephant grass on the shore of Lake Mweru in Zaire when I nearly stepped on the head of a young woman crawling along the ground. She had a months-old baby on her back and two young children following behind."
The woman had been crippled at 12 by polio, and, unusually for her culture, went on to get married. Her Christian husband was shunned "for doing such a stupid thing," and tragically, he'd died just three weeks before this encounter in the elephant grass, leaving her widowed with three children.
When Hillis encountered her, she was crawling from her own community, which had long ago abandoned her, to another, where she'd heard of "people who were giving 'hand-pedaled bicycles.' PET probably saved not one, but four lives that day."
The idea for the hand-cranked cart came from a retired Methodist pastor, who asked a missionary what would be of true use in impoverished countries, Allen said.
"There are lots of parts of the world where a wheelchair doesn't work," she said. "Deserts, jungles — and you need somebody to push you."
The PETs have two wheels in back and one in front, making it very easy to maneuver. Allen can attest to that, having taken a spin in one herself.
They also have at least eight reflector tabs on them, for visibility. And each one made at the Spokane facility is painted uniquely, so they can be distinguished from each other.
The carts have "bullet-proof parts because there are no spare parts in the jungle," Allen said. They come with a tiny attached tool to make adjustments to the chain, and an attached simple wedge serves as a brake.
The carts are made by volunteers at 11 locations in the U.S., Africa and Mexico. So far, 17,000 PETs have been delivered in more than 75 countries.
Stories abound of how life-changing it is to receive a PET.
"People have done little businesses," Allen said. "One man was a courier because they have a storage area in back."
Another man attached a cart to the back of his PET, loaded it with bricks and started a bricklaying business.
One challenge was finding a suitable type of tire for the PETs. They are solid wheelbarrow tires, so they'll never go flat.
The vehicles are sturdy, strong enough to carry an adult and children.
Once handicapped people are given a means of transportation, "they contribute to life. They contribute to the family. They can save the family if it's the provider" who needs the PET, Allen said.
The PETs are shipped partially assembled, and then are fully assembled at their destination before being turned over to the recipient.