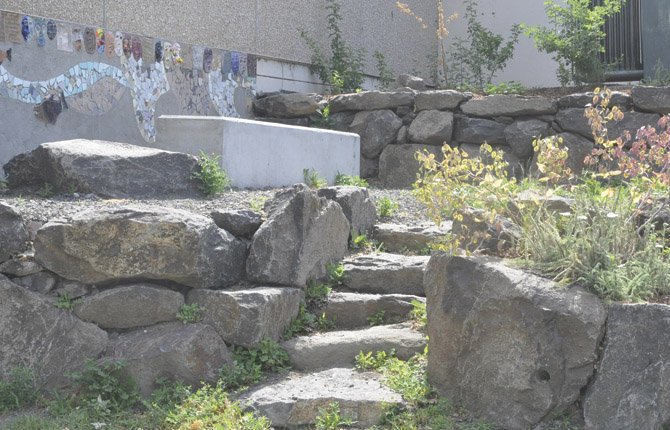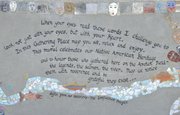 Attendees of The Dalles Wahtonka High School's graduation ceremonies this year may have noticed some new additions to Amotan Field.
The area to the northwest of the field, once home to dirt and weeds, is now the site of Gifts from Our Ancestors. The student-led project — part of the larger Confluence Project in the gorge — includes mosaics, an artistic column, benches, stone walls and steps and a medicine garden.
"The Confluence Project is designed for students to learn about Native American cultures along the Columbia River both present and past," art teacher Peny Wallace said in an email.
She said several mentors helped with the project, including local mosaic artist Toms Royal and members of local tribes.
"Plant Keepers from local Native American cultures visited the high school and shared their knowledge of indigenous plants used for healing, eating and medicine," she said.
Students selected some of those plants — chosen for their low maintenance needs — to adorn the Confluence Project area.
The project was created across classes, with students from Ceramics, Plant Science, Advanced Health and Construction Trades classes all pitching in to help with this year's final stages of the project. The project began during the 2011-2012 school year, when English classes and art classes at the high school helped design the installation.
The Confluence Project encompasses a series of art projects celebrating the history, culture and ecosystems of the Columbia River Gorge. Several local schools in the area have been given grants for art installations such as the one on Amotan Field.
Wallace said the cascading layout of the project is meant to mimic the flow of the river and pay homage to Celilo Falls. The inscription above the Gifts from Our Ancestors project sums it up:
"When your eyes read these words I challenge you to look not just with your eyes, but with your Heart. In this Gathering Place you may sit, relax and enjoy. This mural celebrates our Native American Heritage and to honor those who gathered on Amotan Field — the legends, the salmon, the river — May we notice them with reverence and be grateful they exist."