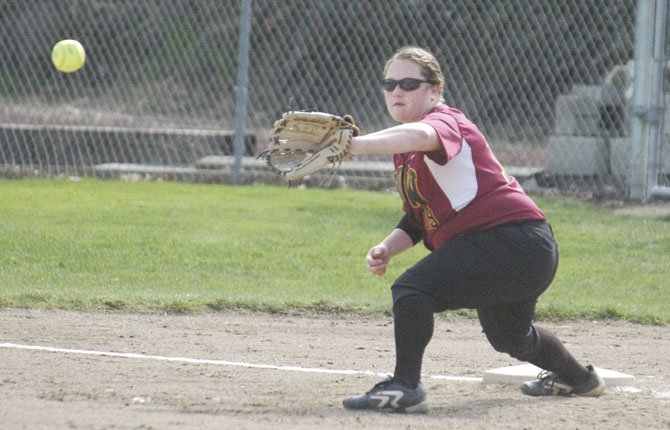 Melanie Taphouse did not think her softball career would span further than the high school level.
As her luck would have it, a road league game in Hermiston as a first baseman led to an initial meeting with head coach Jeanette Abreu and a tryout at Blue Mountain Community College.
After a tour of the campus and a couple of hours on the diamond honing her craft in the field, and in the batter's box, The Dalles Wahtonka graduate fell in love with the surrounding area, a scholarship was extended and she immediately accepted.
"I am super stoked," Taphouse said. "I did not think I would get the opportunity to play college ball. I am so excited. I cannot believe it. I can't wait to see how I will grow as a player there and how I get to meet new people. It is a new adventure and I am ready for it."
For most of her softball career, spanning from Cherry City Crush, traveling teams and the varsity level, Taphouse made her name known as a starting pitcher and outfielder.
However, an elbow injury dipped in to her time in the circle, so she spent time at first baseman this year, for the first time ever.
She responded with a power stroke, adding some walk-off home runs and clutch extra base hits to lead the Eagle Indians to a 12-win campaign.
At first base, she played stout defense to anchor down the infield play and parlayed those efforts to a first-team all-league selection.
In her time on the varsity squad at TDW, Taphouse enjoyed a tremendous amount of success with three semifinal runs in four years.
"She was always a coachable kid and she was always deeply respectful and a pleasure to have on the squad," said TDW coach Steve Garrett. "I think Melanie can make an impact. She can definitely compete at that level."
With Garrett as her mentor, Taphouse said she learned a lot about the game.
She credited the softball program for teaching her how to be flexible and that is what is expected on the next stage.
"I have to be ready for anything. I just want to go out there and contribute," Taphouse said. "I am scared obviously. I am nervous because I do not know what to expect, but who isn't? It is the next big step of your life. I am ready for it and being a part of this program got me ready for it."
Another element not gloss over is the continued success of the traveling programs like the Cherry City Crush and off-season workouts organized by former coaches and top hitting instructors.
Maybe that is the reason why so many athletes make the jump to college – this year alone, TDW had four players signed in for either Division I, NAIA or community college.
"Having so many great athletes here shows all the work coaches in The Dalles put in to help improve the level of play in sports," Guischer said. "It gets you more prepared and shows you that you can play at the top levels of softball."
While at Blue Mountain Community College for her two years, Taphouse plans to major in dental hygiene.
Being a member of the softball team involves a strict balancing act between studies, workouts, traveling and games, much like a full-time job.
In her conversations with Abreu, the duo devised a course of action, as the emphasis is mandatory tutoring and study hall.
"It is really nice how she does that because she wants us to focus on studies more," Taphouse said.
Through her journey over the years, Taphouse has had a tremendous amount of support in the community and through the stronghold of her home – her parents.
They have been there every step of the way, and that is not lost in the mind of Taphouse.
"They have been supporting me since I was a little fourth grader starting out on the mound," she said. "They have always been there and I am so thankful to have the parents that I have."