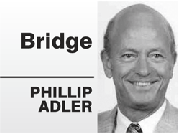 Groucho Marx said, "A black cat crossing your path signifies that the animal is going somewhere."
Not a superstitious man, he. And bridge is not a game for the superstitious, with its 13-card hands and 13-trick deals.
To get from one hand to the other, you often have to be careful with your cards. How does that apply in this deal?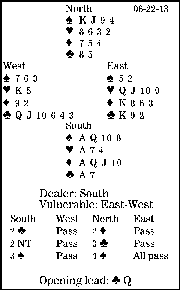 South is in four spades, and West leads the club queen.
If you open two no-trump with only 20 or 21 points, you should definitely upgrade that South hand and open two clubs. If you require a good 20, 21 or 22 for two no-trump, it is a closer call, but with all four aces, two 10s and those combining honors, the hand is worth nearer 23 points than 21.
On the second round, North employs Stayman to uncover the 4-4 spade fit.
South should see four potential losers: two hearts, one diamond and one club. He has only nine guaranteed tricks: four spades, one heart, three diamonds and one club. Declarer should conclude that the diamond finesse must be winning. However, that finesse might have to be taken three times, which would require three dummy entries. Put those trumps to work!
Declarer should win with his club ace, cash the spade ace and carefully overtake the spade eight with dummy's nine. Then he tries the diamond finesse. When it wins, South plays the spade 10 to dummy's jack and repeats the diamond finesse. Finally, he leads the spade queen to dummy's king, takes a third diamond finesse, and claims 10
tricks: four spades, one heart, four diamonds and one club.
Watch your entries like a cat, black or otherwise.