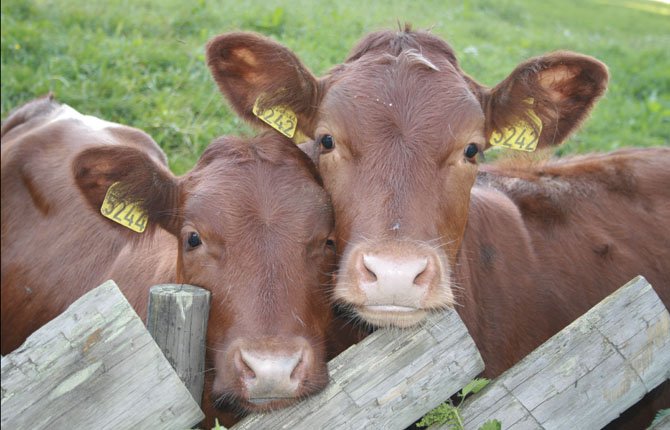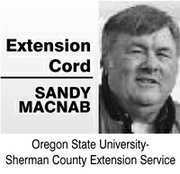 This past month has been very busy around the area's Extension offices. Days have been extra-long for all of us. I have seen so many examples that remind me of why I love this area.
Take the North Central Livestock Association, a newly formed unit comprised of the old Sherman County Cattlemen's and the Wasco County Livestock Association. Both organizations had slowed down, experiencing conflicts trying to help members. I've heard the lifespan of an organization is about 70 years, very similar to a human's life expectancy, and both organizations showed signs of aging.
A couple of years ago while cleaning out files in preparation for our anticipated move to a new office in Sherman County, I found a 30-year-old newsletter mailing list. I found 139 names of Sherman County folks who raised livestock as either their primary or secondary source of farm income. We compared that to a current list and had trouble coming up with 35.
It's not that my newsletter is that bad, but it indicates just how low stockman numbers have shrunk. It's part of the reason the famous Bull Tour passed away quietly in its sleep. It was still a great tour, still served a useful purpose, but we were running out of new ranches to visit. It just seemed unfair to keep hitting the same ranchers every third year when three years isn't much time to employ and evaluate some new practice.
But even with smaller numbers, there were still issues impacting the industry. So, at an interest meeting last fall, we took names and started planning. Credit Keith Nantz for the inspiration and, in stockman's terms, "taking the bull by the horns" to kick-start an organization representing interests of livestock producers. At the organizational meeting in Maupin, Keith was selected as the first president of the combined group. With Rory Wilson, new vice president, they led the charge to get the organization papers in place, drafted new by-laws and had them adopted at the second meeting.
As their first order of education for livestock producers, they're hosting a "Ranching for Profit" workshop, a two-day event shedding light on many of the paradigms that keep ranchers from being profitable in their businesses. This class is June 28-29 in The Dalles and will draw ranchers from north central Oregon and southeast Washington.
A second livestock seminar is already being planned for fall. It's a good sign that the independence of the industry is alive and well.
It's not just the livestock industry that's looking out for its own survival. On the Pre-Harvest Cherry Tour, we stopped at Omeg Orchards to view some newer concepts in temporary housing for workers and their families. Michael Omeg explained why they were added, what features were new and how they expected to manage the living facilities. Omeg's theory was that in future years the labor market will become increasingly competitive. They sought some means of giving themselves and the region an inside track to help insure pickers would want to return here.
Local orchardists have a history of treating their pickers like real human beings. Picker camps here have never resembled the squalid camps you see on the news elsewhere. Several orchardists have had the same families return to their farms for four generations. That means that not only have the pickers been pleased with their treatment, the orchardist have passed that human touch down for generations as well.
People here just naturally care about others.
On the other side, Cindy Brown conducted a kids "Healthalicious Cooking Day Camp" in Rufus and was visited by two "suits" from the state 4H offices. They had never seen real wheat, seen it ground and never smelled freshly ground, whole wheat flour. She sent them home with flour to build pancakes for their healthy eating enjoyment. With average Americans now more than three generations removed from the farm, these eye-openers we take for granted will make better educated consumers.
Our wheat growers turned out in bulk for five tours recently, gaining exposure to new ideas. One might think the recent GMO news has depressed them to a level of suicidal lows, but growers have experienced numerous events in the past and this is just another one they will live through. Over 100 attended our Experiment Station Field Day where a CNN film crew interviewed some farmer about the issue.
Now GMO's were never part of the presentations that day, but the TV crew was sure we had staged this crowd just for them to show our concern over the issue. This particular event has been "staged" annually for 104 years. I appreciated the show of resiliency and the ability to not waste one's time worrying.
And finally, for Flag Day, several volunteers organized a special event that drew over 100, mostly youth but 20 veterans also. It was well-planned and non-political. Kids were kept active but learned the honor and respect we show our flag and our veterans. Passing traditions to a new generation keeps us stronger.
You can't get these messages just anywhere. Why would anyone want to live elsewhere?