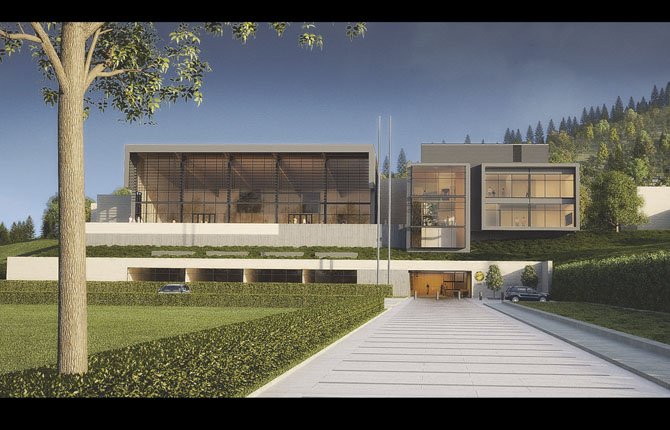 Photo Gallery
Readiness Center tour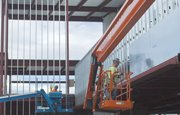 Tour the Readiness Center under construction at Columbia Gorge Community College, The Dalles campus.
While you were sleeping...
Huge wooden beams for the Readiness Center were carefully moved through town in the middle of the night... related story.
In seven months, Oregon National Guard soldiers will be training in the same building where college students are studying for careers in renewable energy.
Dr. Frank Toda, president of Columbia Gorge Community College, said the almost $28 million facility on The Dalles campus will be one of the most innovative investments of public funding in the nation.
"I'm just thankful that we can be part of a shared vision — a 21st century workforce training center for 21st century jobs," he said. "This is the essence of Dream Big, Be Persistent."
The dual-use complex is to be called the Fort Dalles Readiness Center, a name selected by Major General Raymond Rees, the adjutant general for Oregon, after consultations with local historians.
It took 15 years to bring the plan for what the Oregon Military Department now describes as the "crown jewel" of its facilities to fruition. Local government leaders, college administrators and both state and federal officials lobbied for years to get Congress to provide funding to replace the aging armory at Sixth and Webber streets that sits on county land.
Toda said the wait was worth it for a 62,689-square-foot structure erected on 7.4 acres at the eastern edge of the campus. The building will have 13,087 square feet of space on the lower level reserved solely for college use as a workforce training center. Another 27,279 square feet of space will be shared on the main floor, including a 10,000-square-foot lecture hall for the college that will also serve as a drill floor for the Guard.

An industrial shop of 5,000 square feet is also shared, providing 3,000 square feet for 12 student welding labs and a 2,000-square-foot maintenance bay for Guard vehicles.
"It's the consummate example of collaboration," said Jim Austin, facilities director for the college.
The college was able to infuse $8 million in state funds into the readiness center after Rep. John Huffman, R-The Dalles, and Rep. Mark Johnson, R-Hood River, convinced the Department of Community College and Workforce Development that about $20 million in federal funding could legally serve as a match for those dollars.
Under normal circumstances, the state grant would have been matched by donations or passage of a bond measure that financially committed the community to the project. However, the college failed to gain approval of voters for that proposal in 2010 and a determined Toda approached Huffman about finding another path so the money could still be invested in the college.
James Willeford, chief of military construction for the state, said a spacious kitchen will be set up on the upper floor. He said having a state-of-the-art cooking facility available can transform the lecture hall with its sweeping north view from floor to ceiling windows into a conference center that can hold up to 1,000 people and has break-out rooms. A smaller kitchen will be installed downstairs for use by college students and staff.
"It's going to be absolutely spectacular," said Willeford. "I'm not hearing of anyone else doing something of this substance with a National Guard facility — it's taken some serious out-of-the-box thinking."
Toda said the entrance to the college facilities will have a fireplace to welcome visitors. Natural light filtered through skylights will also help set the stage for less formal gatherings. He said another great asset of the readiness center is that ample parking will be available for even large events.
"This will be a great environment to building workforce relationships," said Toda. "I call this whole project the 'Lantern on the Hill.'"
He said the college is coordinating with The Dalles Area Chamber of Commerce to make sure there are hotel rooms available for large organizations that might want to rent space in the center.
"We're going to bring people from all over the country to see our community," he said.
Willeford said the readiness center will be the first in the country to attempt "net zero" energy consumption, meaning it will produce as much energy on site as it uses.
Austin said those efficiencies will include solar panels, a sod roof over the college rooms and a heat-pump system using energy captured from 88 geothermal wells to reduce operational costs.
The pilot program, said Willeford, will be applied to other armories once the military department has figured out what works best. He said there will only be four full-time soldiers on site and up to 150 one weekend each month, so finding ways to save costs for a large structure is a necessary challenge in a time of tight government budgets.
"It's been a great partnership for us, I'm very pleased," he said.
Because one of the college's signature programs is training technicians to maintain wind turbines, Sherman County has signed on to help outfit the new welding lab.
The neighboring county will invest $100,000 over the next two years into the college program that provides a skilled workforce for its energy producers. Sherman County once relied upon agriculture as its lead industry, but today produces 1,000 megawatts of power from 400-500 turbines that have been erected on farmland.
Sherman County Judge Gary Thompson said there are about 7,000 components in one turbine and until CGCC started its renewable energy program in 2007, there was no training center for technicians in the region.
"In Sherman and Wheeler counties, wind is a big deal and CGCC has been a phenomenal partner," he said. "These companies are not going to build if they haven't got people to maintain their turbines, so having this training available is a key issue."
Dan Spatz, development director for the college, said the renewable energy training program had humble beginnings because there were no standards in place when it was initiated.
"We saw turbines along the freeway in 2006 and called the companies to get more information about their workforce needs and then we started going to conventions," he said. "What makes our program so unique is that it is industry-generated."
The college tucked renewable energy classes into four available spaces — a simulation lab is currently in an old boiler room — that became more inadequate as demand for services grew.
"You make do with what you've got," said Toda. "I can't wait to see some of those people who have trained in our old facilities come back to see the new space."
The college has also been rewarded for its diligence in establishing training standards for technicians by the equity investors at Shepherd's Flat near Arlington, one of the world's largest wind farms. Along with $250,000 for the wind energy program over 10 years, the college has been designated as a preferred workforce partner by Caithness Energy, General Electric Energy Financial Services, Google, Tyr Energy and Sumitomo Corporation.
In January 2011, CGCC became one of the first three institutions in the United States to receive the American Wind Energy Association's Seal of Approval for wind technician training. That award followed several years of pioneering a program that found the college, in 2008, hosting a wind energy summit on its The Dalles campus that was designed to help establish uniform instructional courses for technicians. That event brought colleges, universities, agencies and industry partners from across the United States to the gorge.
Toda said it is fitting to have received another honor as planning for the new readiness center was underway. In 2011, CGCC was named a "Military Friendly School" by G.I. Jobs Magazine. The college was ranked in that publication among the top 15 percent of schools nationwide in helping veterans acquire job skills after they return home from deployment.
It is a point of pride, he said, to have that title because he has also served. Toda retired in 2001 from a 30-year career in the Air Force where he earned the rank of colonel and worked in the Pentagon on national defense issues.
"This is truly a way to honor our military," he said of the project. "This designation speaks directly to the importance of reintegrating returning soldiers into the civilian workforce. Military-friendly institutions provide the knowledge and support systems to help ease this transition. Columbia Gorge is honored by the distinction, and eager to serve."
He said having the readiness center on the large piece of property will be beneficial in the event of a manmade or natural disaster. In addition to having enough property for helicopters to land, the other college buildings can be used as part of an emergency aid station if necessary.
Willeford said the readiness center and workforce training center will be completed in January 2013 and a grand opening ceremony held in February or March.
The Oregon Department of the Military has obtained another $250,000 in federal funds to demolish the old armory, work that will be led by Hoffman and take place as soon as Alpha Company has moved into its new home. Willeford said the original agreement between the military, college and county, which owns that property, was to have the military remove asbestos and other hazardous materials but not be responsible for taking down the structure.
Wasco County will then have to figure out what to do with that property. In return for freeing up a prime piece of real estate, county officials agreed to pay $15,000 each year for 50 years to cover the military's lease of college property.