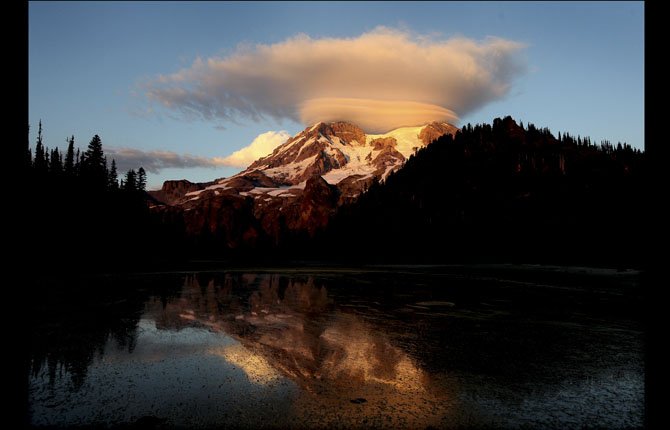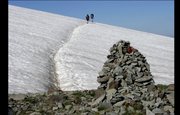 MOUNT RAINER NATIONAL PARK, Wash. (AP) — For an hour we stared at the mountain.
Four tired hikers at the end of a long day, settling in at Klapatche Park with freeze-dried dinners, and watching nature's version of television.
First, Mount Rainier spun a lenticular cloud and donned it like a hat. Then, slowly, the entire scene turned orange before the alpenglow faded to black.
The Wonderland Trail takes a lot out of you. It's roughly 93 miles with more ups and downs than 2½ trips to Rainier's summit.
But the trail gives much more than it takes. There's the postcard beauty of alpine lakes, lush meadows, thick forests and glaciers giving life to muddy rivers.
Last summer, colleagues Matt Misterek and Drew Perine, Graham firefighter Thad Richardson and I spent eight days wandering Rainier's Wonderland. It's a trip about 820 people attempt each summer, most giving themselves 10-12 days hiking clockwise from Longmire. We went counterclockwise from the White River Campground and by the time we finished, having looked into the mountain's many faces, we were somehow simultaneously exhausted and invigorated — another of the trail's wonders.
COLD AS HAIL
White River to Granite Creek - 7.7 miles,
2,700 vertical feet
If Mount Rainier had a heart, its EKG printout would look like the elevation profile of the Wonderland Trail — ups, downs and hardly anything flat.
I decided the best way to take on the Wonderland was to ease into it. So at 11 a.m. on Sept. 11, we set out with packs weighing from 38-48 pounds and climbed upward through the trees from White River to Sunrise.
By the time we reached the foot of Skyscraper Mountain, we realized the first night was going to be colder than we expected. Contrasting the sunny forecasts we'd read, hikers told us they were pelted by hail the previous night.
So, instead of rushing back into the trees to our camp, we lingered on the ridge enjoying the sunshine as long as possible.
NICKNAMES, MOUSE POOP
Granite Creek to Cataract Valley - 11 miles, 2,825 vertical feet
Maybe it's a guy thing, but less than 24 hours into most backing trips everybody has a nickname.
By the time we left Granite Creek, the guys were calling me Scout Leader because I chastised them for taking almost an hour to break camp. Thad was dubbed Shorts Too Early In The Morning Guy for a wardrobe mistake made worse by having to wait around in the cold while Matt and Drew finished packing.
Matt's nickname was unprintable and, for no good reason, I was calling our photographer Drewcifer.
Even though we rarely spend time together (Matt and Drew met Thad on the way to the mountain), it was evident we'd get along just fine. This probably isn't the best approach for a challenging weeklong journey. It's best to know and get along well with somebody before spending so much time depending on each other.
The hiking got more challenging on Day 2, but we were rewarded with a short break on the bank of Mystic Lake and a beautiful downhill stroll through Moraine Park.
In the 10 minutes we needed to take a picture, a band of thieving mice reminded us why you should never leave your food unattended unless it's hanging from a bear pole.
Drew noticed a small hole in his GORP bag. He poured a handful of trail mix into his hand and showed it to me, pointing at one piece in particular.
"Does that look like a mouse turd?" he asked.
BUG OFF
Cataract Valley to South Mowich River - 11 miles, 1,810 vertical feet
We awoke early and traveled over Spray Park to Mowich Lake to meet my father-in-law, Ed Fox, for a resupply. The Spray Park route adds about 700 feet to the standard Wonderland route, but rewards hikers with an up-close view of the mountain and a sea of wildflowers.
While we refueled at Mowich, Ed, who hiked the trail in 1992, confirmed our hardest stretch started the next morning. An early start was in order, so I figured if we secured the South Mowich Camp's log shelter we'd need almost no time to break camp the next morning.
UNBEARABLE BERRIES
South Mowich River to Klapatche Park - 14.5 miles, 4,360 vertical feet
Starting at first light allowed us to climb 2,000 vertical feet over 4½ miles before breakfast. Atop this foothill, the trail flattened and rewarded us with a bounty of huckleberries. Our pace slowed dramatically as we feasted and hoped for a glimpse of a bear. It seemed every hiker we talked to on the trail saw bears here.
We were ready. Our plan for scaring away bears that got too close was to click our trekking poles together and crank up the volume on an ongoing debate: Which "Rocky" opponent would win in a fight, Ivan Drago or Clubber Lang?
It must have worked, because we didn't see anything.
By lunch we'd descended to the North Puyallup River, where a thunderous waterfall plunged under a bridge. We rested on the rocks above the falls, re-energizing for the final push to Klapatche Park, where we watched the sunset paint Rainier orange, before giving way to the starry sky.
IN-YOUR-FACE PACE
Klapatche Park to Pyramid Creek - 13.2 miles, 2,000 vertical feet
When you encounter a fellow Wonderland hiker — on the trail or off — one of the first questions inevitably is "How long are you taking?"
On Day 5 we met a couple attempting a 24-hour trip and college students taking the maximum 14 days.
Fast or slow, pace can be a point of trail snobbery. It takes hardly any effort to find messages online from slow hikers chastising trail runners for going too fast to appreciate the mountain's beauty.
That night we rinsed our clothes in Pyramid Creek, which helped with the smell even though we didn't use soap. At one point, I offered Thad a squirt of hand sanitizer. "What I need," he said, "is a hand sanitizer bath."
"CLUBBER LANG!"
Pyramid Creek to Maple Creek - 13.7 miles,
2,215 vertical feet
We finished the 3½-mile trek to Longmire by 8:30 a.m., but arrived with mixed emotions.
My wife, kids and dog met us with warm pulled-pork sandwiches, cookies and fresh supplies for the final push. But Drew's work schedule meant he was going home early.
After our goodbyes, we spent the rest of the day walking across the south face of the mountain. While this is one of the easiest and most visited stretches of the Wonderland, it was still memorable.
After hiking almost 70 miles in the wilderness without seeing a creature larger than a marmot, we finally saw a bear in the distance at Reflection Lakes. Minutes later, we saw a fox yawn and curl up for a nap.
"Clubber Lang!" Matt hollered.
Thad was leading the way and had pushed aside vine maple to reveal the rear end of a black bear. He clicked his trekking poles, Matt quickly and loudly took up the losing end of our debate and before I even saw the beast I heard it lumbering downhill toward Louise Lake.
CULINARY GENIUS
Maple Creek to Indian Bar - 9.8 miles,
3,330 vertical feet
Even after seven days on the mountain, Mount Rainier can still blow your mind .
Before noon, we'd made the long climb up the Cowlitz Divide and were greeted by the bugle calls of elk and the smell of smoke from a nearby forest fire. But as we descended to Indian Bar, the mountain once again dominated the horizon and we slowed, admiring its grandeur as if we'd just stepped off a plane from Florida.
We arrived at Indian Bar early and soaked our feet in the creek before relaxing in front of an old shelter.
ONE IN A MILLION?
Indian Bar to White River - 10.3 miles, 2,200 vertical feet
We woke up at 4:30 a.m. and almost immediately blew our halfhearted attempt to finish by 11.
Using headlamps to light the way we quickly ran into a damaged section of trail. We spent about 15 minutes fanned out in a dry creek bed trying to find our way. We were about to stop and wait for sunrise when Matt found the path.
It wouldn't be our only delay. Below Panhandle Gap, the highest point on the trail, we stopped to enjoy the sunrise. On the north side of the gap we stopped for breakfast. And we paused once more at the always bustling Summerland camp.
At Summerland, even with its green meadows tempting us to linger, it was as if we could smell the finish line. Even hindered by a sore knee, Thad led a final 6.9-mile push that took about two hours even with one last stop to filter water.
Our low-key celebration in the White River parking lot consisted of high fives and one last picture before driving to Greenwater for blue cheese burgers at the Naches Tavern.
The entire circuit took 1 week, 25 minutes, 49 seconds. Hardly one-in-a-million pace, but definitely a one-in-a-million trip.
---
The original story can be found on The News Tribune's website: http://bit.ly/17bVll2
---
Information from: The News Tribune, http://www.thenewstribune.com
Copyright 2013 The Associated Press.