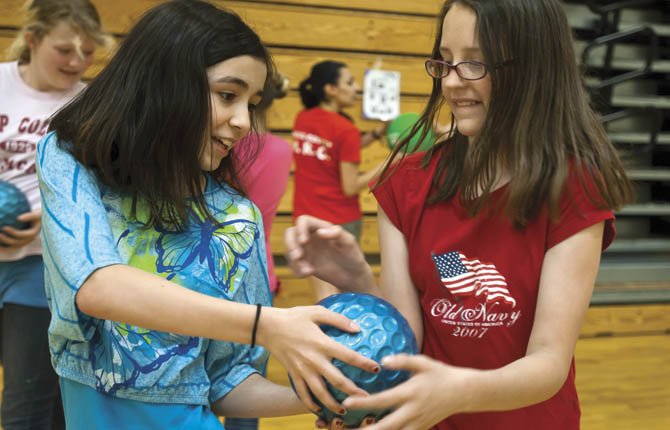 The Dalles — Kids who might otherwise have gone home after school and plopped down in front of the TV or an iPod are now dancing up a storm at The Dalles Middle School.
The new after-school program started April 1 and is funded by a federal grant obtained by the North Central Public Health District aimed at improving youth fitness. Called "Healthy and Fit TDMS," the after-school program meets Mondays and Tuesdays from 3:06 p.m., when school gets out, until 5 p.m.
Kids start with a healthy snack provided by the school, then stretch to music, then launch into an activity designed to get them moving, said Andrea Peña, an Americorps/Vista volunteer who sought the grant and is administering it.
The program is modeled after Michelle Obama's "Let's Move" campaign, aimed at tackling childhood obesity. The grant is for the health district's Medical Reserve Corps unit, a fairly new program where volunteers — with both a medical and non-medical background — are called upon both in emergencies and non-emergencies to help out. Peña is serving as the medical reserve corps coordinator. The local unit has 34 members.
The grant could be used in any way the health district saw fit, Peña said, so the choice was made to focus on childhood obesity.
The district used the money to buy sports equipment including balls, uniforms and pedometers for 30 participants, and also incentives for the end of the year, including pool passes and t-shirts.
So far, about 12 or so kids are showing up for each session, Peña said. Interestingly enough, a mix of boys and girls showed up at first, but as more girls began coming, the boys dropped out and it's become a girls-only event.
She has heard some comments from boys who would like to see more activities like basketball available.
She said the program has seen "a nice little influx of kids. They're not the ones that are too interested in sports and not the ones you would usually think are the ones that like to dance or are engaged in dance."
But they love to dance. They've learned to bring a change of clothes, too. "We do move a little bit. It's nothing excessive; I try to avoid the PE curriculum. They won't be running any miles, but they do sweat a lot."
Peña gets comments from the participants after each session. One recently wrote, "A pro of the day was I love the dancing, it was tons of fun, can't wait to come back tomorrow."
She said the girl noted her "con of the day was they didn't like getting sweaty, which just cracks me up. It's just funny to me, because that's the whole point."
Peña said the program is reaching the kids it is designed to reach, and it's been fun for her to see them enjoying the program.
While the kids do activities besides dancing, that is by far their favorite. Peña draws on her own background for activities, since she was a cheerleader for four years at the University of Oregon.
To measure the success of the program, she asked kids to do a stretch-and-reach activity, and will have them do it again at the end of the school year to see if they're more limber.
The kids also enjoy their pedometers. "Its kind of fun for them to look at their numbers and say, 'Mine is higher,' as they're moving."
While dancing is the favorite, Peña uses a number of activities to keep the kids moving. Kids are self-selected into the after-school class, and she heavily promoted it beforehand to drum up business. She used posters and flyers, and spoke to classrooms about it and handed out surveys to see what kids would be interested in.
But they love dancing.
Peña's position ends in August, and hopes are that Medical Reserve Corps volunteers will take over the management and operation of the program.
"We do have over 150 random things laying around that we have purchased. It would be nice" to have the program continue, she said.