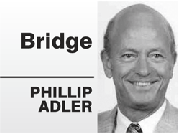 Denis Diderot, an 18th-century French art critic, philosopher and writer, said, "There are three principal means of acquiring knowledge: observation of nature, reflection and experimentation. Observation collects facts; reflection combines them; experimentation verifies the result of that combination."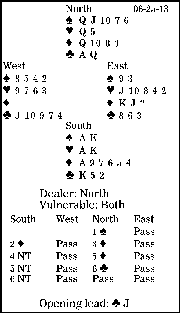 At the bridge table, declarer, after observing the dummy, collects facts — winners and losers — and reflects by combining them. Then he tries to find the best line of play without experimentation.
In today's deal, how should South play in six no-trump after West leads the club jack?
As soon as North opened the bidding, South knew it was either a six or seven deal. But he started quietly with a two-diamond response. However, when North raised diamonds, South launched Blackwood to learn that the diamond king was missing.
South can afford one diamond loser, not two. If the suit is splitting 2-1, there are no problems. So declarer should assume a 3-0 break.
If South first cashes his ace, he loses two tricks when West discards. Similarly, if declarer starts by calling for dummy's queen, he fails when East has the void. The guaranteed line is to take the first trick on the board and play the diamond three. If East pitches, South wins with his ace and leads back toward dummy's queen. But when East plays the two, declarer covers with his four! Here, that wins the trick and the contract is safe. But if West takes the trick, the suit must be 2-1.