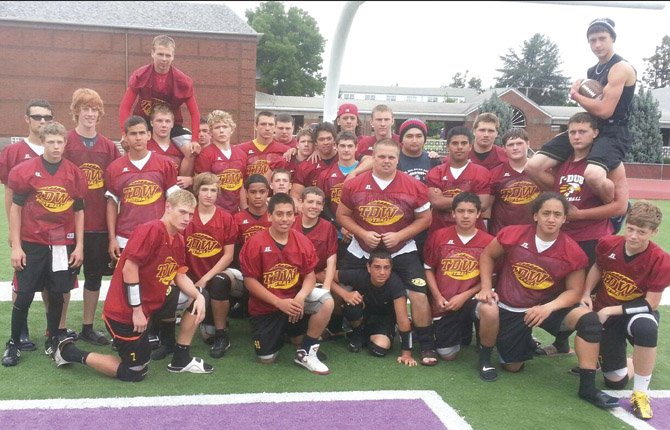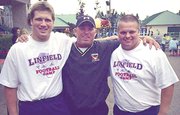 After three days of drills, practices, running and scrimmages, members of The Dalles Wahtonka football team were rewarded with an all-day pass to Bullwinkle's Family Fun Center to ride bumper cars, swim and enjoy the spoils of their off-season hard work.
The Eagle Indians brought 32 players for action at Linfield College in McMinnville this past weekend for the Linfield Football Camp and according to assistant coach Ron Diede, things went very well.
"We did what we wanted to do out there. We achieved so much," Diede said. "We completely went above what our expectations were. I think all of the coaches were pleased with how things went. We are not far from where we want to be."
In all, 16 teams were in attendance including Roosevelt, Columbia River and Mark Morris High School, out of Washington. From Oregon were South Umpqua, Hood River, Sisters and a Renegade football squad to name a few.
On a daily basis, the teams got up for breakfast, listened to announcements and then broke off into groups for running back, linemen and quarterback individual drills.
After individual drills, the teams went at it in full pads for eight plays of offense and defense for three sessions against different teams.
Once those scrimmages were completed, the teams went to lunch, and then repeated the same schedule until dinner.
The teams had scrimmages again after dinner and engaged in a 'wildcat' challenge.
"They worked very hard out there. They really didn't lose any of their scrimmages," Diede said. "The kids did just as well as or even better than whoever was playing against us."
Through the coaching circles of those who attended — head coach Steve Sugg, defensive coordinator Rich Belanger, Rick Wilson, Jim Taylor, Andrew Savaiinaea and Diede — felt as though the players did an admirable job considering they were just introduced to newer philosophies three and a half weeks ago.
"For the boys to pick up coach Sugg's offense like they have and implementing it the way they have, it is real promising. We are real close," Diede said. "There were a lot of plays where one block could have sprung a back or receiver loose. There were quite a few of those. We did well on top of that as far as scoring touchdowns and keeping people from scoring touchdowns on defense."
Offensively, Blake Diede, Billy Brace, Devin Wilson and Damion Morris took snaps from the running back slot.
Aside from a successful running game with a stable of quick scatbacks, Diede was more impressed with the passing game.
Returning players, Chaise Shroll, Zach Cantrell and Dominic Seufalemua, played the quarterback position and the quartet of Zach Nerdin, Cantrell, Shroll and Austin Dehart played receiver or tight end.
"Offensively, there is a lot of speed and a lot of skill," coach Diede said. "Our quarterbacks are reading defenses, which co-relates into wide open guys and big plays and we are hitting those wide open guys. Coach Sugg puts together a really good offense and the kids are really taking into it."
With the cooperative defensive schemes put together by Belanger and Savaiinaea, there were some hard hits levied as well as some good defensive stands made.
In this complex 4-3 formation, discipline, reads, anticipation and fundamentals are keys to success.
"Everybody has to do their part for it to work," coach Diede said. "The players have assignments and they have to stick to them. We never put our defense together before camp really. We implemented it at camp, they took it, and under Rich's instructions, they listened to him and things went well for them. We went up against some big schools and we stuffed a lot of them."
Four players were recognized as all-camp recipients for their all-around offensive and defensive play with all-league athlete Connor Shortt, earning a spot for his exploits on both sides of the line.
Mike Pifer had a solid three days on the offensive line, the 6-foot-3 inch Nerdin opened eyes at tight end and Morris was penciled in as the top sophomore running back as all-camp winners.
"Some of our other kids deserved all-camp awards," coach Diede said. "I can name so many of them that did some great things here."
Now that there OSAA sanctioned 10 days of pads are completed, TDW will concentrate on lifting, plyometrics, conditioning and 7-on-7 passing camps for their work ethic for the remainder of summer until the start of the new campaign.
This weekend, the Eagle Indians hit the gridiron for a 7-on-7 tournament along with 17 other teams in Silverton.
Most of the teams participating will be 6A and there will be a few other 5A groups involved.
"It is one of the more prolific 7-on-7 tournaments in the area," coach Diede added. "I have hopes because the kids performed very well. They have a real drive to do good this year. We can just see it."
Later on this summer, probably in July, TDW will take part in a 7-on-7 league for scrimmages every Thursday with Hood River Valley, White Salmon and Stevenson, Wash.
The annual four-day Eagle Indian kid's camp will take place from July 22 to 25 from 9 a.m. until noon at Discovery Field at Wahtonka High School.
The Pigskin Camp is set for Aug. 12 to 17. With the help of the Tribe's Friends of Football Organization, scholarship opportunities are available for students who need financial assistance to play the sport this fall. For more information or to join the team, call 541-993-0216.