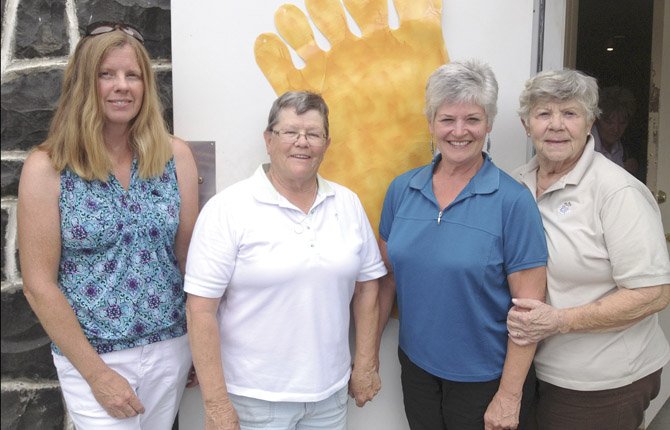 Two strokes made the difference between the top two four-person teams at the 39th annual Sasquatch 4s Women's Best Ball event June 22-23 at The Dalles Country Club.
In this net tournament, Laura Hess, Stephanie Adams, Lori Harris and Bev Tuttle, representing TDCC, combined forces for a 255 tally to slip past Sharon Austin, Dixie Schanno, Gladys Caddy and Jill Durow, who shot a 257.
A group from Goldendale Golf Course, Nancy Beyerlin, Nicole Campbell, Louis Middleton and Dorothy Miller, wound up with third-place recognition with a net marker of 264.
The team of Marylee Webber, Pat Edmundson, Darlene Barber and Bev McKinney came away with a gross score of 368 for the low gross crown.
Saturday, in a best ball event, Harris, Tuttle, Kristen May and Joni Pifher ended up in a deadlock for first place along with Karen Springer, Janet Tschanz, Beyerlin and Campbell with a 124.
The team of Mindy McHale, Nancy Jacobsen, Nancy Kitt and Jo Smith slugged out a 133 score for third place in the standings.
In the Sunday Best Ball tournament, there was a three-way tie for first place with tallies of 126.
Harris, Tuttle, Edmundson and Lesa Bunten made up one group that ended up in first place.
Caddy, Durow, Patsy Prideaux and Sue Gutzler and Austin, Schanno, McHale and Nancy Jacobsen rounded the trio of teams also with top honors.
Nancy Kitt had a shot of 6-feet-7 inches in the special K.P. division to take home a golf bag donated by Bob Sproule Golf Shop.
For additional information on upcoming tourneys or to sign up for a membership, call 541-298-8379.