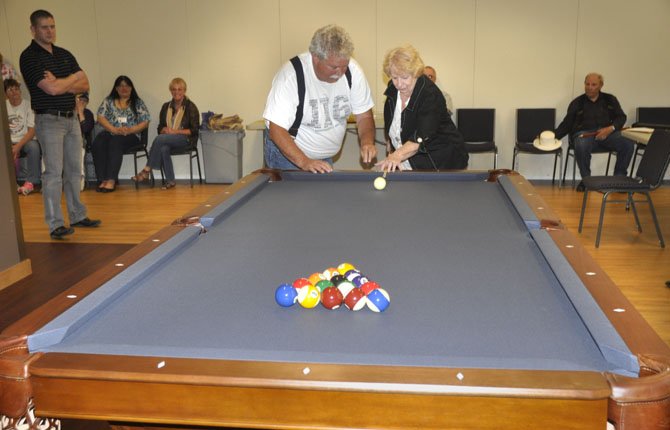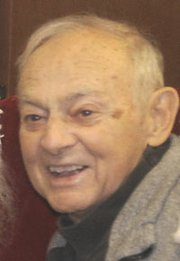 Jimmie Doris didn't live long enough to rack the balls for Friday's ceremonial break on the new pool table at the Oregon Veterans' Home in The Dalles but friends and family felt he was there in spirit.
"It's awesome, it's special. He would just be in his glory," said Darlene Doris, wife of the deceased Korean War veteran who took the opening break on his behalf.
She was coached by Ralph Fawcett, her husband's long-time friend, who had traveled from St. Helens to be present for the June 21 event. He was accompanied by Dan Stangland and Robert "Bob" Thomas, who were also friends of the Doris family during the many years they lived in St. Helens.
"Jimmie was the guy who got things started," said Fawcett. "He'd be so happy that he got this going, too."
The almost $3,200 billiard table sits in Jean's Room, a recreation area that is part of the new addition to the home at 700 Veterans Drive. The gift to residents and visitors came about because of Doris' persistence, said Dallas Swafford, state liaison officer.
Doris, 81, felt the table would provide aging veterans and their spouses with a fun way to entertain guests and enjoy social time with each other. He asked Swafford to help initiate a fundraising drive as his last legacy. The drive captured the interest of The Dalles Lions Club and representatives from the Jimmy Hands Trust Fund. Also contributing was Richard Wachter and David Goff, both of The Dalles.
Swafford said it took several months to get the contributions together to order the table and Doris' health began to falter during that time. The veteran, who earned a bronze star for his service with the military police in Korea, died June 15, the day after the table arrived.
"He was able to see pictures of what it would look like and he cried when we got confirmation that it was coming," said Swafford, who arranged for a memorial plaque bearing Doris' name and service information to be mounted on the table.
In attendance for the dedication was Gary Pratt, president of Mid-Columbia Veteran's Memorial Committee, and representatives from Veterans of Foreign Wars Post 2471 and American Legion Post 19, all of The Dalles.
"This table is another great addition that will help insure the quality of life for residents at the Oregon Veterans' Home," said Pratt. "We can't rely on government funding for all the extras, so it's great to see community involvement make dreams like this happen."
Also present was Jayne Mederios, volunteer coordinator for the Heart of Hospice, the organization that took care of Doris during his final days. Nurses and home health aides from that service described Doris as a fun-loving man who was full of joy and brought smiles to the faces of all who were around him.
"I think he is smiling over us today knowing that his much anticipated pool table has finally arrived and that his friends at OVH can now enjoy pool as I know he would have," said nurse Abbie Kalemba about the dedication.