Confucius said, "When it is obvious that the goals cannot be reached, don't adjust the goals; adjust the action steps."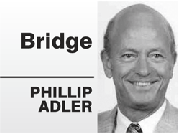 Bridge players usually know the goal of a deal. For each side, it is to win a certain number of tricks. (The exception is when playing in a matchpointed duplicate. Then the target for declarer might be to win an overtrick or two; for the defenders, perhaps to hold the contract to plus one. That is why pair events are so tough.)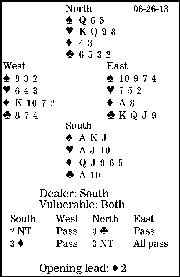 In these columns, we rarely worry about overtricks — and this deal is no exception. How should East try to defeat three no-trump after West leads a fourth-highest diamond two?
Many players are under the influence of "return partner's suit." They would win the first trick with the diamond ace and lead back the diamond eight. Even if West were psychic, taking South's queen with his king and shifting to a club, declarer would have nine tricks via three spades, four hearts, one diamond and one club.
A more thoughtful East would do some analysis. What does West's diamond-two lead signify?
That he has exactly four diamonds. So how many does South have?
Five — and it is rarely right for the defenders to attack declarer's longest suit.
Here, East should win with his ace, then switch to the club king. With this layout, the contract should now fail. South will take the second club and lead a sneaky diamond jack, but West can grab that trick and lead his last club, giving the defenders two diamonds and three clubs.
Play by thought, not by rote.