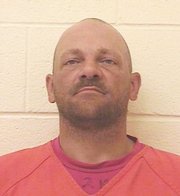 A man believed to be homeless has been charged with attempted murder after allegedly using a knife Tuesday night to settle an argument with another man.
Robert Allan Schutt, 41, who is reportedly unemployed and lists only a post office box as an address, was arrested at 3:44 a.m. Wednesday, June 26, by The Dalles City Police Officer Jeff Halter.
He was also charged with first-degree assault, unlawful use of a weapon and tampering with evidence and, as of press time, was being held on an $11,500 cash bail.
Schutt was due to be arraigned at 1 p.m. Wednesday in Wasco County Circuit Court.
District Attorney Eric Nisley said alcohol was a factor in the incident that occurred at the Lewis and Clark Festival area. He said Schutt and another male got into an argument that escalated into a physical confrontation.
According to reports, the victim was stabbed in the throat during the conflict shortly after 7 p.m. June 25. A female caller told the emergency dispatch center that another man had committed the crime but that individual had an alibi and was cleared as a person of interest. Mid-Columbia Medical Center personnel responded to the scene and stabilized the victim, who was LifeFlighted from Mid-Columbia Medical Center to Oregon Health and Science University in Portland.
Nisley said the victim is expected to make a full recovery.
Police reportedly made contact with Schutt for a welfare check about 11 p.m. near 12th Street and Dry Hollow Road.
A passerby had alerted 9-1-1 about a man who might be having medical problems but Schutt told the responding officer that he was just laying down to take a "smoke break."
Schutt was then developed as a suspect in the case and tracked down by Halter at a location undisclosed in police reports. He allegedly tried to dispose of the knife that was retrieved by the officer and seized as evidence.