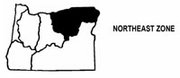 NORTHEAST ZONE VIEWING
BAKER COUNTY
Bighorn sheep and mule deer can be viewed along the Snake River road between Huntington and Richland. Keep your eyes open as Bald Eagles are also plentiful in the area. Bighorn sheep in the Burnt River are down low in the canyon along the riparian areas and can be viewed from the road.
GRANT COUNTY
Bighorn sheep can be viewed along the South Fork of the John Day. Elk, deer, antelope, and sheep are having their young. It is important to remember to leave any wildlife where you found them. It usually won't be long before mom returns to check on them. Also view from a distance to prevent disturbing them. 6/3/13.
Morrow, Gilliam and Wheeler Counties
Summer is here, most of the young are leaving the nest. Fledglings can be seen in most yards. The long billed curlews have headed back to the wet areas with fledglings. Crows are starting to fledge as well.
Ferruginous hawks can be seen the northern portion of the District. Short-eared owl can be seen along the grasslands of the north end of the District. Swainson's hawks can be seen in the north end of the district on their nests. They are the last of our hawks to arrive and nest. Swainson's hawk also has the longest migration as they winter in Argentina. Also in the grasslands one can spot horned larks, savanna sparrows, white-crowned sparrows, and meadowlarks. In areas that have good bunch grass in the north end of the District persistent birds can spot grasshopper sparrows, although they are easier to identify by sound. Our year-round resident raptors, red-tailed hawks, Northern harriers, and American kestrels are all easily found. Sharp-shinned hawks can be seen along the riparian areas of the north half of the District. In the areas that have sagebrush one can spot loggerheaded shrieks.
In the yards of the district, one can find the common songbirds around the feeder. Dark-eyed juncos, song sparrows, house sparrows, white-crowned sparrows are all easily found. American gold finches and Rufus sided towhees can also be see in the Heppner area. Also be cautious in the gravel driveways and parking lots as killdeer are nesting and their nests are very hard to spot.
Waterfowl can be seen out with their young in the waterways of the area. It is easy to spot mallards, American widgeon, northern shovelers, coot, blue wing, green wing, and cinnamon teals, buffleheads, and common mergansers. One can also spot common and Pied-billed grebes along the Columbia. Great blue herons are found along all of our streams that support fish. In the wetlands of the area one can spot American Avocets, black-necked stilts, yellow-headed blackbirds and red-wing blackbirds.
In the forests of the District one can see mountain and western bluebirds in most of the meadows. Deer and elk can be seen with their young, with the best chance to spot them at dawn and dusk. Snowshoe hares can be seen in the denser lodge-pole reprod. They are easily identified by their white feet.

UMATILLA COUNTY
Breeding, nesting, and fledging are on all at once and bird viewing opportunities exist in many areas of the county. Breeding birds of many descriptions will be found in riparian, woodland, and shrub-steppe areas with many sightings of several species of warblers, sparrows, and wrens. Additionally, some of the more colorful species are making appearances such as Bullock's orioles in riparian zones, western tanagers in forested broadleaf areas, and Lazuli buntings in rose and shrub areas.
Loggerhead shrikes will be a treat for birders in desert areas with abundant sage habitats. Long billed curlews will also be seen in the more grassy areas of the desert habitats as well. Burrowing owls will also be seen standing beside burrows or sitting on fence posts in the more arid areas during this period.
Although the temperatures are up and the hills are dryer, bears, deer, and elk can be seen in the early morning and late evening throughout the forested regions, especially to the north of I-84 where wetter conditions are more common.
The river corridor areas will offer some viewing with white pelicans and waterfowl trading back and forth along the river corridors. Warm season brings the opportunity to see species of waterfowl such as cinnamon teal and gadwalls which are absent in the cooler period of the year. The Columbia River is a good place to see a number of gull species as well as both Caspian and Forster's terns.
UNION COUNTY
Ladd Marsh Wildlife Area
Note: Wildlife viewers and anglers need a parking permit to park on the wildlife area. The $7 daily or $22 annual permit can be purchased online or at an ODFW office that sells licenses or at a license sales agent. Learn more about ODFW's Wildlife Area Parking Permit Program.
The Tule Lake Public Access Area and Auto Route and the Glass Hill Unit are open. Visitors are advised to carefully read posted signs and consult game bird regulations before entering the wildlife area. Dogs are not permitted within the Wildlife Area, on or off leash except during authorized hunting seasons. There are numerous quality viewing opportunities from county roads that pass through the area. Binoculars or a spotting scope will help as many animals are best viewed from a distance. Do not approach nesting birds or birds with young as this may make the young more vulnerable to predation.
Canada goose broods have hatched and most of the young are nearly as large as the adults. Duck broods seem to be late this year but more are being seen every day. Every expected species of duck is present including Northern Pintail, Wood Duck, Mallard, American Wigeon, Cinnamon Teal, Green-winged Teal, Gadwall, Ring-necked Duck, Redhead, Bufflehead, Lesser Scaup, Ruddy Duck and Northern Shoveler. A few American White Pelicans are present on the wildlife area.
Great Blue Herons and Great Egrets can be seen in the wetlands and in flight around the area.
Passerines on the area include Song Sparrow, Vesper Sparrow, Tree, Violet-Green, Cliff, Barn and Northern Rough-winged Swallows, Yellow Warbler and Common Yellowthroat in addition to both Eastern and Western Kingbirds.
Red-tailed Hawks are feeding young as are most Swainson's Hawks. Northern Harriers are also feeding young.
Local nesting Sandhill Crane pairs have hatched and some may be seen feeding in meadows. Small groups of non-breeding cranes can be seen in fields and meadows all around the area. Please report any sandhill cranes wearing leg bands to the Ladd Marsh staff (541-963-4954). If possible, note the color and order of bands on each of the bird's legs (e.g., pink above white on left leg; silver above black on right leg). The specific combination and order can identify individual birds.
White-tailed deer have been visible in meadows, especially in the early morning, and many have fawns. A few elk have been using the refuge below Foothill Road.
For more information on access rules for Ladd Marsh Wildlife Area, please consult the Oregon Game Bird Regulations or call the wildlife area (541) 963-4954. 6/3/13.