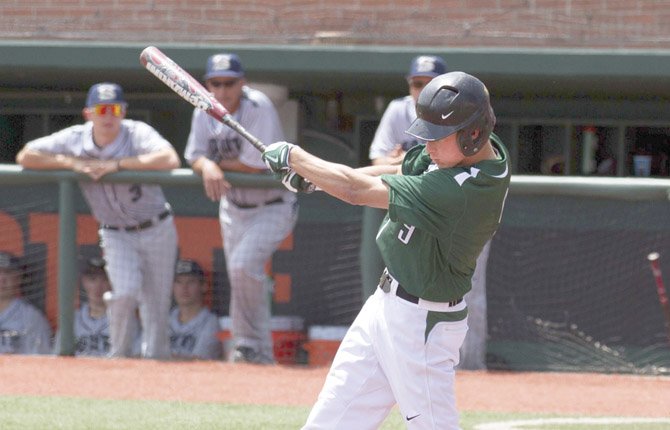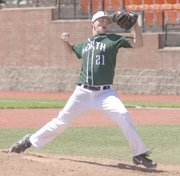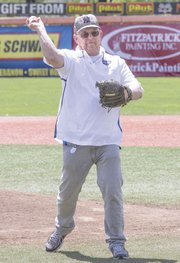 In their final weekend as representatives of The Dalles Wahtonka High School, recent graduates Connor Mathisen and Dakota Walker had the opportunity to rub elbows with some of the best baseball players in the state at the Reser's Oregon All-Star Series in Corvallis.
The duo, who played for played for North squad, took flyballs in the outfield, Mathisen had an outfield assist and Walker pitched three scoreless innings.
It is a memory they will cherish for many years – a perfect capper to a solid season.
"It was a good experience," Walker said. "It is something that I will never forget. Playing in that one extra game as a high schooler really means a lot. After going through everything I did in the past year, it is something that is never forgotten."
The all-stars are outfitted head-to-toe in Nike gear and wear, and they had the chance to break bread together for a feast after Saturday's games.
They got along very well and there were friendships forged at the Oregon All-Star Series.
Walker expressed his delight to have a familiar face by his side in the dugout.
"He is a great player to play with. I really liked having him on the team," Walker said. "It was fun to have him there with me. We didn't play a whole lot, but we got to know each other better than we ever had before."
On the field Saturday in doubleheader action at Goss Stadium, the South team won the opening game by a 7-2 score.
After that loss, the North evened the series at 1-apiece with a 4-3 nightcap winner.
In the series finale, the South battled back from a 2-0 deficit with a run in the seventh inning and two more in the eighth and hung on for the 3-2 triumph.
As the director of the series, Dan Segel felt it was a great two-day presentation.
"The Series was very evenly matched," Segel said. "The finale was a hard fought, competitive game, which was won on a two-out, two-run double in the bottom of the eighth. Both teams played hard and wanted to win. The South prevailed for their first Series win since the event moved to Corvallis."
It had been a few years since a player from The Dalles had a chance to participate in a meaningful event. Along with Mathisen and Walker, long-time TD resident, former coach and teacher, Bob Brockman threw out the ceremonial first pitch.
Earlier this year, the series administrators voted to name the MVP award in Brockman's honor – a selection earned this year by Corvallis pitcher Luther Ellenson.
As a Coach of the Year winner this season with a league crown under his belt, TDW coach J.R. Runyon took pride in having two of his ambassadors represent the program, school and community.
"(I am) so incredibly proud of these two," Runyon said. "What a great honor to be selected to play in the All Star series and compete the way they did. It has been a true pleasure to get to coach them over the years and to see them finish out there senior year on that stage was special."
As they hang up their high school stirrups, both Mathisen and Walker will embark on a new journey at the collegiate level.
Mathisen will make his travels down south to San Diego, Calif. to play ball and major in physical therapy at Point Loma College.
Walker will play a little closer to his family after accepting a scholarship to play ball at Blue Mountain Community College in Pendleton.
He will major in occupational therapy.
BMCC had a rough season in 2013, but a new coach in Brad Baker is taking leadership.
Although he clocked in at 80 miles per hour on the radar gun at his recent tryout, Walker said he was under the weather, so he is confident that some time in the weight room and work with a pitching coach will elevate his game.
At one point, he maxed out at between 85-90 miles an hour.
"With a workout program, I am sure I will get my velocity up a lot higher than what it is currently and I will be able to shut down some people," Walker said. "It will take hard work and dedication to get to my top level. I just have to go out and do what I can to be successful. I am sure I will get it done."
Walker added that it would benefit him greatly to have his girlfriend Melanie Taphouse by his side along with a few other familiar faces.
That support system is an ideal situation, especially since he is 126 miles away from home.
Walker said he would always wear his crimson and gold colors with pride.
He is sure Runyon and his assistant coach Ben Donivan will enjoy many more years of winning.
From finally earning spot on the varsity roster as a junior, to overcoming a nine-month bout of leukemia with chemotherapy in 2012, Walker knows what it is like to fight for anything and everything.
He is prepared to do it once again as a member of the Timberwolves.
"I am always ready to take on any challenge I am given, so I am sure I will meet this head on like I have always done," Walker said. "I am physically and emotionally capable of doing it. So, I am just going to go at it like I have always done. This is just the start."